All Asbra Resilient Nosings are supplied cut to length only. This product is not an Asbra safety product and does not have the same slip resistant qualities. The infill may shrink. Asbra Resilient Stair Tread Nosings are filled with resilient preformed inserts for use in light commercial and domestic applications.
Finishes
Standard product supplied aluminium mill finish/infill colour black and brass brush finish/infill colour brown.

Other Resilient Preformed Insert Colours Available
Resilient Insert is available in other colours to accent and harmonise in most applications.
Profiles
Asbra Resilient Stair Tread Nosing profiles in aluminium are available in the following sections: 322, 493, 755, 765, 834, 1005, 1025, 1208, 1308, 1358, 1408 and 1608. Asbra Resilient Stair Tread Nosing profiles in brass are available in the following sections: B322,B483, B745, B755, B765 and B1005. Asbra Resilient is not available with SK cast­-in anchors.
Onsite fitting of loose resilient insert over fixing screws
The photographs above show the installation procedure for installing onsite resilient inserts. The red resilient insert is being installed into the 1005 RT stair tread nosing over the countersunk screw fixings. One insert is supplied loose for this purpose.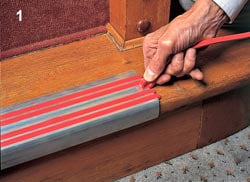 Photo 1. Shows start of insertion by rolling the insert back on itself into a tight loop. This reduces the width of the insert and allows it to insert easily with minimal stretch.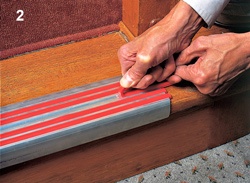 Photo 2. Shows, that by maintaining the tight loop and forcing it into the groove it is easily installed for the full length of the nosing.
IMPORTANT: The insert should be stored onsite for 24 hours before installation and when installed must overhang the nosing at each end by 40mm and remain this way for 24 hours before trimming to size. This permits the insert to normalise and return to its original condition in the event of it being stretched during installation. Stretching to ease installation is unacceptable.

View and download our data sheets - PDF