The Australian Standard defines expansion joints as: "...Discontinuities in the tiled surface, filled with permanently deformable material, which are intended to perform the following functions:
a) separation of the tiled surface from fixed elements such as columns, walls etc.
b) subdivision of large areas of tiled surface into smaller sections to compensate for induced strain from various sources; and
c) to interrupt the tiled surface to match discontinuities in substrate such as construction joints, movement joints etc."
Expansion Joint Design Considerations
Some of the sources of 'induced strain' that could influence the design and specification of expansion joints include:
Settlement, deflection, creep, thermal and moisture movements in the supporting structure

The location and behaviour of construction, connecting, and expansion joints to accommodate both cyclic and irreversible movement in the structure

Thermal and moisture expansion of both bedding and tiles or other dense flooring finishes

The likely service temperature ranges of various components, particularly those affected by direct sunlight, air-conditioning, frost and snow, steam, and hot water cleaning

Penetrations and attachments in floors and pavements, such as downpipes, balustrades, bollards, manhole covers, fixed outdoor furniture and so on, which may concentrate and restrain the normal distribution of movement stresses

The nature of pedestrian and vehicle traffic; point loads from stiletto-heeled shoes and studded sports shoes, rolling loads from hand trolleys, delivery vehicles and maintenance equipment. Skateboards in particular are known to cause severe impact damage to tile joints and edges
Estimating Flooring and Pavement Movement
It is only possible to calculate movements resulting from the regular influences of thermal contraction and expansion and swelling and shrinkage caused by changes in humidity.
A linear relationship exists for thermal movements known as linear coefficient of thermal expansion. These are best expressed in millimetres per metre per degree Celsius temperature change. Average values are given below:
Concrete with gravel aggregate 0.009 to 0.012

Cement-based mortar 0.010 to 0.011

Granite 0.008 to 0.010

Marble 0.004 to 0.006

Ceramic tiles 0.004 to 0.008
Accordingly, the absolute thermal movement of an unrestrained 4.5-metre-wide band of dense ceramic tiles, subjected to a 40-degree temperature change between mid-winter and peak-summer conditions, could be as much as 2.16 millimetres (i.e., 0.008 x 40 x 4.5)
It must also be emphasised that this hypothetical dimension of 2.16 millimetres represents the sum of expansion and contraction. Assuming that the paving materials are installed at an average temperature of 25oC on a site subject to groundwater freezing in winter, contraction from the initial condition will account for 0.9mm and expansion for 1.26mm of the total.
In addition, tiles and natural stone swell and shrink in response to wetting and drying. Such reversible moisture movement is so slight for glazed tiles that it is rarely tested or quoted in manufacturers technical literature. Reliable European sources give a range for reversible swelling and drying movement of 0.01 to 0.015 millimetres per metre for granite.

If reversible moisture expansion of 0.15 millimetres per metre is superimposed on the 1.26 millimetres estimated above for maximum thermal expansion, the total expansion across a 4.5-metre-wide bay is still less than 2.0 millimetres.
However, this combination of thermal and moisture strain is unlikely to occur outside a testing laboratory, for it assumes tilework or stonework is saturated while at its maximum service temperature.
Expansion joint separations
These calculations are used to inform recommended expansion joint spacings and the distance between adjacent expansion joints. The Australian Standard recommends intermediate "stress-relieving joints" in internal tile work at 8 to 10 metre centres and in external tiled pavements at centres of approximately 4.5 metres. Australian NATSPEC recommends rectangular bays at 3 metre to 5 metre spacings.
Latham X-Pansion Strips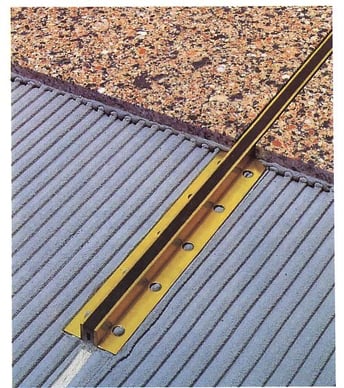 Latham X-Pansion Strips control and distribute stress induced in the horizontal plane of tiled and stone-paved floor surfaces.
Latham X-Pansion Strips are capable of absorbing extension and compression equivalent to 16% to 20% of the undeformed width of their elastic neoprene cores. Thus, 12mm joints can be compressed to about 10mm and extended to about 14mm, while 6mm joints can be compressed to about 4.75mm and extended to about 7.25mm.
Side plates are quality rolled brass alloy, aluminium, hard zinc, rebonite or stainless steel. The control section is a 6mm or 12mm neoprene trafficable wear surface.
Latham X-Pansion Strips are installed at the same time as laying the wet under-bed or adhesive, ensuring positive anchorage and a gauge for the paving thickness. Installation requires no on-site work other than cutting to length where necessary.
Latham X-Pansion Strips have been manufactured for many projects around the world and can be custom manufactured to tight curves, to complement almost any architectural design.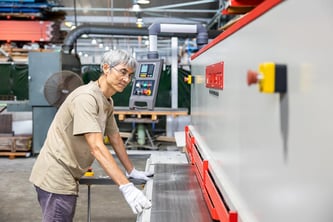 For more information
For additional information including installation of control joints and avoiding common installation errors, click here.
For Latham X-Pansion Strip product information, click here.
To talk to a Latham product expert about using Latham X-Pansion Strips on your next project, call 1300 LATHAM (528 426) or email sales@latham-australia.com
We look forward to hearing from you.