Here at Latham Australia, we make our entire range of floor movement control and safety products in our factory in Gladesville, in the Sydney suburbs. Latham are proud to be a key "Australian Made and Owned" business.
We make a number of quality products, in a vast choice of types and models, to meet every need. We also design to meet your special requirements.
Entrance Mats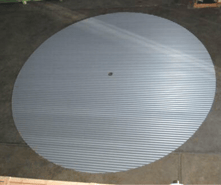 Our Entrance Mats are made by installing the selected filling material in the metal mat profiles, adding the flexible rubber joining strips and the appropriate edge and completing the assembly by cutting to the exact shape and size that was ordered. Where a framed, recess-mounted mat is what the customer wants, we make a suitable frame in the selected metal, again, to the exact size ordered.
Stair Tread Nosings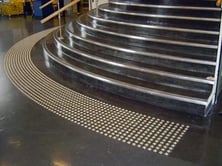 Latham Stair Tread Nosings, widely used for safety and accessibility reasons, are made by efficiently filling the chosen metal profile with our abrasive compound in the selected colour(s). These are then cured, cut to length and hole-punched for the mounting screws, before being given their final cleaning. Like all Latham products, they leave our factory in mint condition, every time.
Grates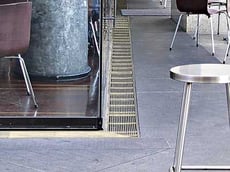 Our Latham Grates, which can be provided in aluminium or brass, being made to order, are all welded, cut and assembled right here. If the customer specifies tile inlay pans, drainage troughs, spigots, even junctions or other structural elements, these are all added exactly as required and made to order with the same high attention to detail and precision manufacture.
X-Pansion Loc and Tile Strips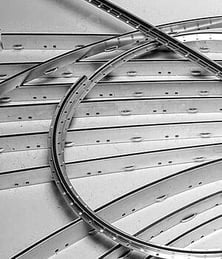 Latham's well-known X-Pansion Loc and Tile strips, designed for use in solid floors such as terrazzo and polished concrete, are also all made in the same factory. These are another of our made-to-order items with an extensive array of styles, sizes and colours to choose from. They are assembled here, combining high quality metal sheet and stress-absorbing neoprene to the exact specifications of the designer. Once again, the finishing and presentation process is always part of the production, and the quality of these strips is consistently excellent.
Expansion Joint Covers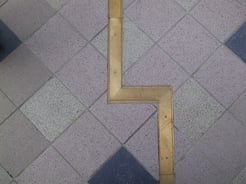 Latham Expansion Joint covers have their own manufacturing production line stages. We combine the chosen side member profiles, which may be drilled or have mounting anchors attached, with the various additional elements such as seals, tie bars, gutters and fire barriers. There may be a number of metalworking steps needed to produce a particular style of joint cover. Most of our Expansion Joint Covers include a cover plate in your specified metal finish, which is pre-drilled for attaching to the tie bars inside the installed joint. If the joint is between a floor and a wall, the configuration will differ, but the same care and attention to detail is involved in the manufacture.
Customised For Your Safety Needs
All Latham products are custom-boxed for safe, protective shipping to the installation site. We make our own packing and boxes so that every Latham product arrives perfectly presented, ready to install. We include the screws where needed, and these can be colour matched in many cases for a truly consistent appearance. Here at Latham, we are definitely proud to say "Made in Australia".
Latham Australia has many years of successful experience designing and evolving our wide range of products to meet and surpass all the standards that are expected of them. Latham also use the highest quality materials and manufacturing methods. If you put Latham products side by side with others, even compliant products, Latham's far better quality and design will be immediately apparent.
To find out more about Latham products, please visit www.latham-australia.com. To talk to a Latham product expert, call 1300 LATHAM (528 426) or email sales@latham-australia.com.