Architects and design experts bring a special combination of creativity and compliance awareness to the work they do.
They apply their skills and experience to creating new and interesting forms and finishes for buildings – of unlimited variety in size, funding and purpose, from houses to airports, from hospitals to freight warehouses. They are often known as "creatives", but the need for the finished buildings to comply with all sorts of standards is an equally important consideration in the design process.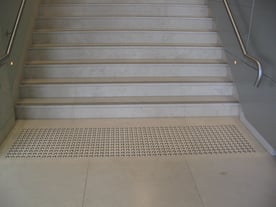 Frequently, elements are selected as part of a finished design because their contribution to the overall appearance will create the right impression and have the desired "wow" factor. There are many instances, however, where the selected materials and products must deliver functionality and compliance with building standards as well as looking fine.
It must be extremely disappointing for the architect who has selected and specified a style of product to be told by the supplier that it is not available in that form, or that it will not comply with the relevant standard for that application. This will commonly happen when the supplier is only reselling products originally made for other markets where standards are different. It also applies where the distributor has no influence with the factory, and is simply selling the products they can get, to projects where no-one cares too much about the final appearance.
Latham Australia working with architecture professionals
Wouldn't it be great to work with the supplier who delivers the widest range of products, the biggest choice of finished appearances, as well as the combination of compliance and style that you need? Latham Australia have years of experience working with architecture professionals to design flooring and safety products that tick all the boxes – quality, design, appearance and compliance with Australian Standards.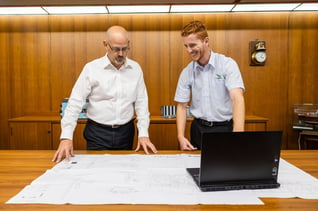 That's the way to make sure that your designs meet with approval from your clients as well as your certifiers. The choice of high quality, made-to-order Australian-manufactured Latham products is the key to getting what you want. Don't be pushed into lowering your design standard because a supplier can't deliver the compliance standard. Talk to the experts at Lathams and we will do our best to get you what you want. We can even design variations of existing product lines, working with architecture professionals.
Latham has won numerous design awards for our range. We do it all in our factory in Gladesville, in the Sydney suburbs. Latham are proud to be a key "Australian Made and Owned" business. We know your business. Make sure you know ours.
Architects specify Latham products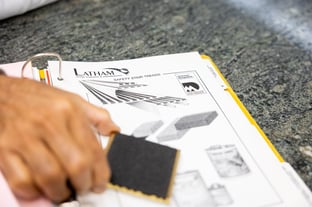 When architects specify Latham Entrance Mats, Stair Tread Nosings, Grates, X-Pansion Loc and Tile strips, or Expansion Joint covers by name, it is because years of experience have shown the reliability, quality, continuously developing designs and endurance of our products. Latham's reputation as the best in the business is well-deserved. Substitution when what you really want is not available from other suppliers won't deliver the outcomes you planned.
Latham Australia has many years of successful experience, designing and evolving our wide range of products to meet and surpass all the standards that are expected of them. Latham also use the highest quality materials and manufacturing methods. If you put Latham products side by side with others, even compliant products, Latham's far better quality and design will be immediately apparent.
To find out more about Latham products, please visit latham-australia.com. To talk to a Latham product expert, call 1300 LATHAM (528 426) or email sales@latham-australia.com.