Since the opening of Australia Square Tower in Sydney in 1967, Australia's skylines have continually risen, reflecting a change in the way we think about the relationship between towers and densification. Far flung from the early days of business districts, today's skylines reveal a bricolage of brick, steel and concrete, combining traditional trade and public services, building grids with residential towers and apartment housing.
So, why do we need skyscrapers? The simple answer: more room for more workers, or in the residential frame, more residents. In line with rising population density, and advancements in engineering, height limits around the world are being revisited and revised to maximise space for commercial and residential growth.
See also: Pandemic changes to the built environment, an outline of the impact COVID-19 has and will continue to have on architecture and public spaces in building a future that allows us to live with outbreaks more effectively.
A Revolutionary Idea
The period between 1880 and 1890 inspired a tide of creativity that would eventually go on to influence the feats we see today - the London Shard, the Burj Khalifa and even the Empire State Building would have no basis without the American technological revolution.

Source: ArchDaily
Fresh inventions like bessemer steel and new rolling mills helped early visionaries like William Le Baron Jenney, Louis Sullivan and Dankmar Adler achieve the flexible frame design required to exceed the limiting 23 metre height. Of course, steel alone wasn't the deciding factor in changing hazard-reducing restrictions. In a city of low terrace office and buildings riddled with fire issues, common to both Chicago and New York at the time, an advanced sprinkler system allowed Chicago's Home Insurance Building to be built out of the ashes of a large blaze in 1871.
From the moon to Mars, to the tip of soon-to-be completed Kingdom Tower in Jeddah, humans are obsessed with aiming higher and testing the limits of urban theory. But how tall is too tall? What are the negative effects of skyscrapers and how do we address this constant change as industry professionals? Let's advance the conversation and break it down the advantages and disadvantages of the skyscraper phenomenon.
The pros and cons of skyscrapers
4 advantages of tall buildings:
1. White space in dense cities
The use of white space or neutral zones in claustrophobic grids creates breathing room for people to move, live, work and play. Although everyday elements are close together, skyscrapers help energise residents and visitors with smart space planning and usage.
2. Environmental impact
Despite what critics may say, compact urban living encourages people to live with less, taking the emphasis away from owning stuff when storage is limited. Residential skyscrapers are rightly viewed as a strategy to engineer more sustainable cities and reduce consumer waste.
3. Economic motivation
The economic benefits of skyscrapers level a skewed playing field, providing opportunity for those suffering from social and financial inequality. In addition to the ownership question, tall buildings allow developers to address housing shortages, injecting more places to live into a prohibitive rental market.
4. Unbeatable views
The higher you are, the more you can see. Skyscrapers provide inhabitants with those end-of-day views to savour and ponder as they wind down with a glass of wine or a cold one. Imagine the future of Melbourne residents and office attendees if the Green Our City Action Plan goes ahead?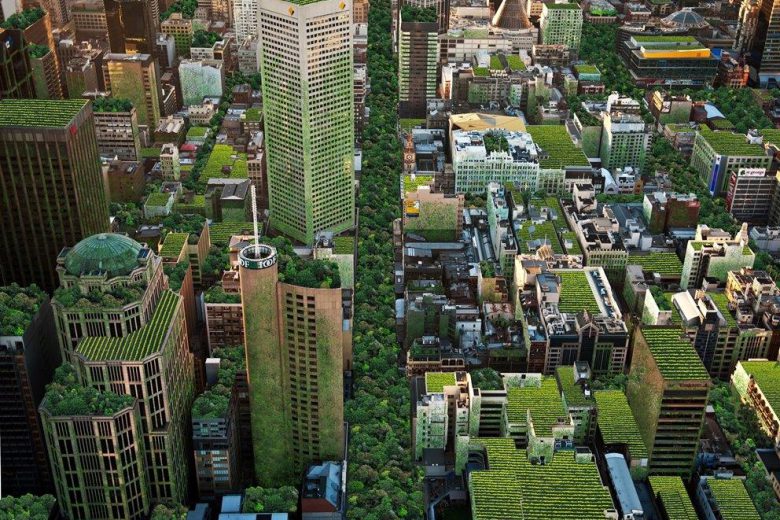 Source: Government News
3 disadvantages of skyscrapers:
1. Safety concerns
While a majority of tall buildings never report an issue or hear a complaint, there are those moments of exception, like the Grenfell Tower fire in West London. However, the chance of Grenfell happening in any new building constructed on home soil, according to code, is highly improbable, provided it meets National Construction Code (NCC) stipulations. But what about other hazards? Indeed, residents of the almost completed Southbank Tower in Melbourne - projected to be the highest residential tower this side of the equator on completion in 2020 - have complained of cracking noises, power outages, lift failures and construction defects.
2. Sustainable skylines aren't always high rises
Emily Gee, the planning director for Historic England said it best when she pointed out too many towers have the capacity to negatively impact the setting of listed buildings and conservation areas. Nobody wants to lose their view to an endless concrete horizon.
3. Height is not the pinnacle of innovation
Adding another hundred storeys to a residential development won't win awards or recognition - builders must consider the socio-economic potential of their plans and how building technologies inform the final product.
What does this all mean for builders? Australia is on the edge of a smarter skyscraper age. As we continue to build higher and higher, the emphasis on constructing icons must give way to strategically considered homes and offices for the people that live, work and play in our cities and urban centres. What good is a skyscraper that doesn't consider the context and climate of its location in a time when tall buildings are a dime a dozen? In order to stand out for the right reasons, builders must embrace sustainability, as new trends point toward more eco-friendly skyscrapers.


To find out more about Latham products, please visit www.latham-australia.com. To talk to a Latham product expert, call 1300 LATHAM (528 426) or email sales@latham-australia.com.