Creative genius is often perceived as a talent that only artists such as performers, painters or musicians possess. However, this kind of creative innovation and visionary thinking is evident in all sorts of disciplines, not just the arts ― from business and entrepreneurship to architecture and engineering.
Here we explore the spectacular results that can be achieved when engineering meets with creative design; taking a look at some of the most exciting examples of inventive home architecture from around the world.
dRMM's Sliding House
Overlooking Suffolk's tranquil countryside, this adaptive English home has been built to maximise the enjoyment of its natural landscape through clever design.
While the structure is striking enough on its own — the brilliant, bold red construction juxtaposed by lush and picturesque green lawns — there's far more to this house than what first meets the eye. The building consists of three modular blocks (a house, garage and annexe), which are encapsulated inside a 20 ton (20,000kg) sliding roof and wall enclosure. The shell can be moved to create various combinations of indoor/ outdoor living space and light aspect, according to seasons or living requirements. Fitted on top of recessed railway tracks, the shell is powered by a motorised wheel system, which has been embedded into the walls of the home without affecting its aesthetic appearance.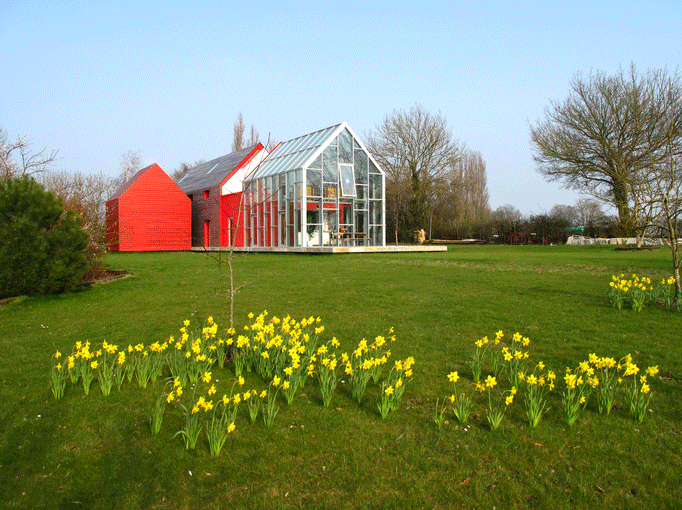 Source: This is Colossal
Bushfire house
After the Black Saturday bushfires ravaged regional in Victoria in 2009, many homeowners left the community devastated, abandoning their former homes and livelihoods. Chris Clarke was not one of these victims — instead of conceding a loss, he set about to rebuild his original dream home — Callignee 1 — only this time using creative architectural design to protect his home from fire.
Relying heavily on upcycled materials — many of which were salvaged from fire-damaged properties in the area — Callignee 2 comprises lashings of recycled timber flooring (taken from an old pier in Sydney), and materials that have been employed for purposes other than their original intended use (for instance, a garden roof water-fed through an old water tank has been reincarnated as a sprinkler system). Careful attention has also been made to the inclusion of fire-resistant building materials such as weathering steel, internal and external insulation and argon-filled, double-glazed windows.
Along with its on-site underground waste treatment system, the creative design features of this fire-fighting home led Clarke to win Building Designers Australia's Building Design of the Year in 2011.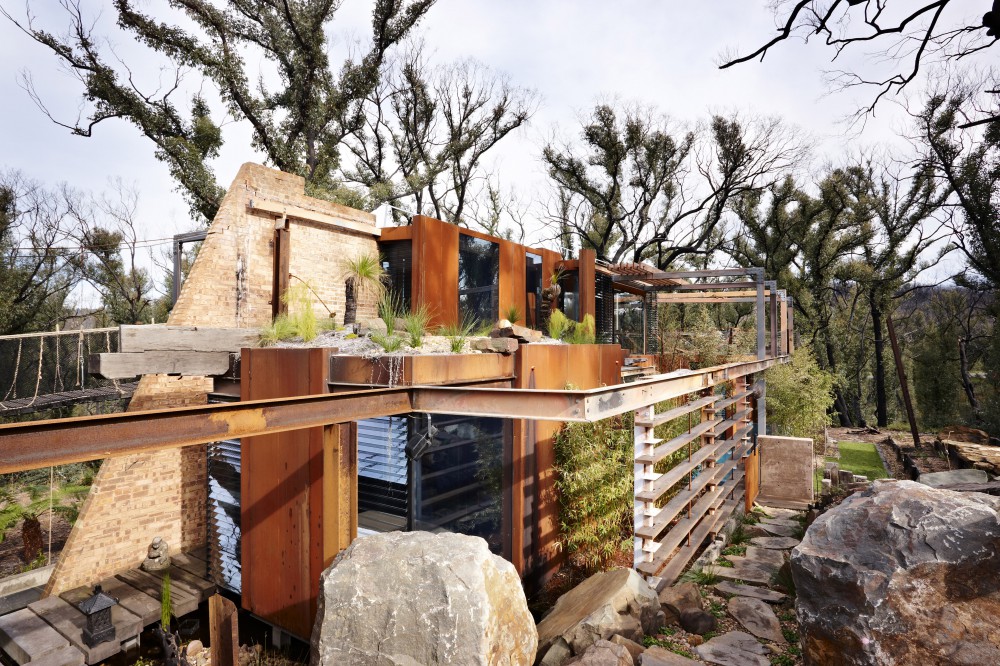 Source: Herald Sun


Stonyfell water tank house
Multi-tasker Mike Dare played the roles of structural engineer, builder and designer in the construction of his South Australian home in Stonyfell, which takes sustainable residential water use to an entirely new level — literally.
Built atop two enormous 100,000 litre water tanks, the above-ground home relies on its own water supply to capture rainwater and provide heating and cooling. With over 40 years of experience in engineering and design, Dare constructed the rooftop of the home to act like a giant funnel — channelling rainwater directly into the tanks which then supply water to the property, collecting up to a year's supply of water at a time and improving self-sufficiency.
While water-saving systems should be incorporated into all new home designs, it's a difficult feat to achieve something so efficient on this scale. Successfully propping up two large living pavilions on the water tanks alone (which each measure 3m×3m×5m) only serves to further demonstrate why the 'water tank house' provides a tremendous example of structural ingenuity meeting aesthetic design.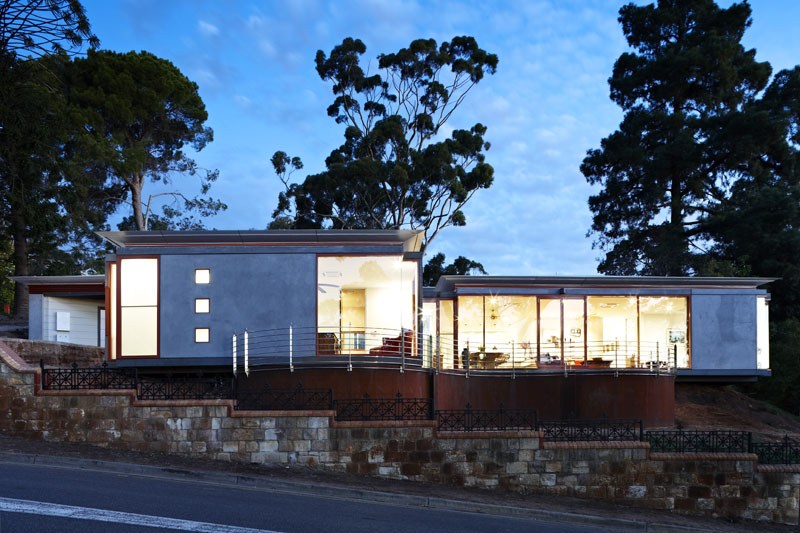 Source: de de ce
Graceville container house
Another tale of tragedy-turned-triumph, the 'container house' in Graceville, Brisbane came to fruition as a result of Brisbane's devastating 2011 floods.
When the property that owners Todd and Diana Miller had recently bought was subject to extensive flood damage, they were driven to start again — although this time, they had less financing to work with. Their answer to the budgetary restriction was to build a home comprised entirely of shipping containers.
A builder by trade, Todd Miller created a three story, four bedroom home across 31 shipping containers ― and with much of the structure prefabricated, finished the build within 20 weeks. With the additional weather protection inherently provided by the containers themselves, the ground level has been designed to be waterproof ―ensuring residents are safe from water damage in the future.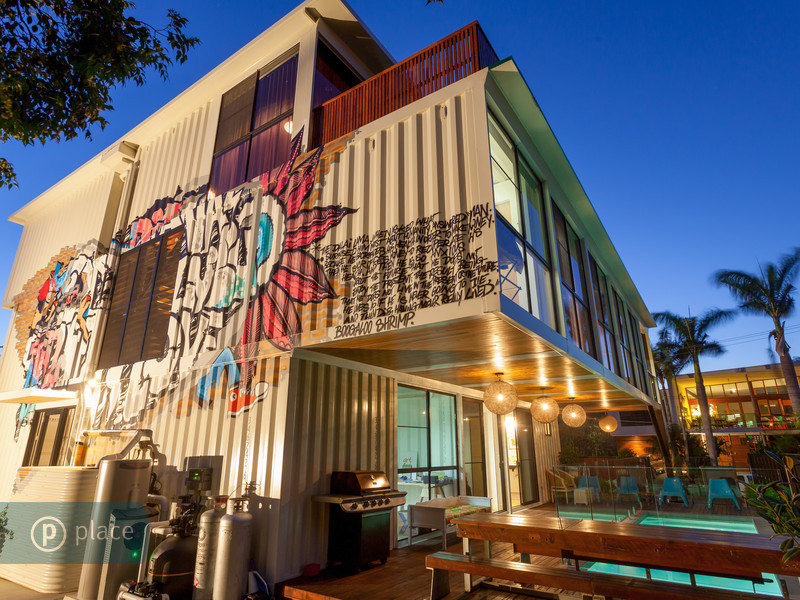 As a business committed to staying at the top of the pack in designing and manufacturing the
best quality architectural building products
, at Latham we're inspired by these examples of genius from both Australia, and afar. They not only show how engineering and creative design can be used in residential construction to address environmental, financial or structural issues — they also demonstrate how these goals can be balanced with aesthetic appearance and, overall, the enjoyment of living space.