Latham Australia has almost 70 years of manufacturing experience, which truly makes Latham the expert in floor safety and movement control products.
Best of all, our products are all made here, to suit Australian conditions and standards, to perfection. Our expertise is extensive; as just an example, here are our tips for how to install Latham Stair Tread Nosings to the highest standard, to ensure years of trouble-free use.
Stair Tread Components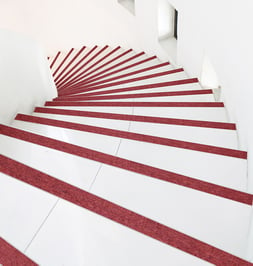 The aim of the installation process is to get secure, rigid fixing of the nosing to the stair tread, and to eliminate potential movement and rattle altogether. Mechanically fixing the nosing with screws is the principal method. This is used on many of the Latham Stair Tread Nosing products. In just about every situation, Latham also recommend that you use adhesive as well as screws.
Latham Stair Tread Nosings come factory drilled at fixed centres, evenly spaced along the nosing from end to end. These holes also serve as a template for drilling the screws and the plugs, where used, such as in a concrete substrate. Once the holes are drilled and the plugs are in place, clean the stair tread itself and the underside of the nosing to ensure maximum bonding of the adhesive, clearing any grease or foreign matter from the join.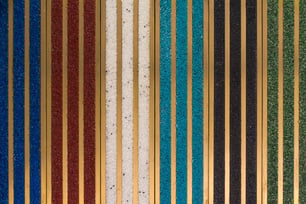 Latham's recommended adhesive is Latham Titazel™ – a thixotropic epoxy adhesive that behaves perfectly under pressure which, working with the screw fixings, will hold for the life of the nosing. This adhesive is applied carefully to the prepared under-surface of the nosing, so that it does not squeeze out through the screw holes or under the back edge when the screws are tightened. Latham will provide colour-matched screws for every one of our Asbra abrasive infills so that the finished product is not only perfectly attached, it's also stunning to look at.
Stair Tread Nosing Applications
For different applications, there are different methods of ensuring the highest level of tight fit. You can't use adhesive where you are attaching Stair Tread Nosings over a carpet surface, for example. Stair Tread Nosings can be built in, as part of the stairs themselves, or can be fixed to a wide variety of floor finishes – from tiles to carpet, through vinyl and external finishes such as decorative stone.
In some cases, the use of Latham cast-in fittings is the appropriate method, where the nosing is screwed to the underlying fitting which itself becomes part of the solid stair. Other Latham Stair Tread Nosings come with integrated cast-in anchors and are installed as a single fitting. Lathams can meet any design or building specification that is called for.

Latham's almost 70 years of experience means that there is no installation situation we haven't seen before - but if you do present us with a challenge, our engineers and designers will happily work with you to solve it. Whatever the situation, we have the answer. Our variety of products and applications means that we are very resourceful – delivering our customers the excellence you associate with the Latham name.
Visit the How-To section of our web site, for more detail of the best methods of installing Latham Stair Tread Nosings, whichever variety and in whatever location you choose.
To find out more about Latham products, please visit  latham.com.au To talk to a Latham product expert, call 1300 LATHAM (528 426) or email sales@latham-australia.com