The Latham Australia story begins in the 1950's. The business was founded by Mr William Latham and, ever since, has been owned by the one family.
The Latham Australia story begins in the 1950's. The business was founded by Mr William Latham and, ever since, has been owned by the one family. Latham manufactured and supplied a variety of equipment and machinery to industry. By the 1960's the focus was on the terrazzo, marble, granite and stone industries. These materials were mainly used by artisan installers to create attractive and long-lasting floors, especially in public areas and buildings.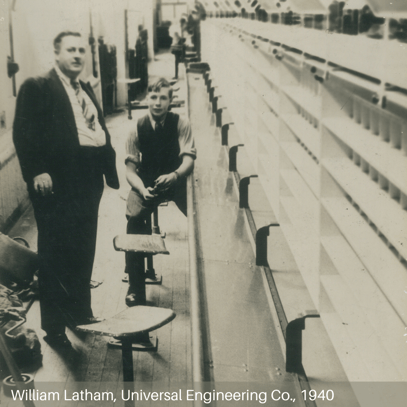 David Latham, the second generation of Latham's to run the business, invented numerous new products that worked beautifully in the flooring industry. These included neoprene expansion control joints and tile dividing strips. All of these were made to the highest quality, designed to last for years and to enhance the appearance and the safety of the premises, wherever they were installed.
The inventions continued and soon Latham added mechanical, flexible Expansion Joint covers and slip resistant safety stair nosing to the range. The products are manufactured in a selection of materials – aluminium, brass, stainless steel and zinc – to suit every purpose and design brief. The conjunction of the rigorous standards in the Latham factory, and the quality of the materials used, means that Latham products are always ready for years of use.
Latham is now in the capable hands of the third generation, Adam and Dane Latham. They have further expanded the product offering to include dirt control entry mats, architectural landscape grids and grates, loading dock bumpers, tactile indicator studs, and wall protection systems. Latham has not moved far away from its origins and still carries specialty terrazzo and stone cleaners, sealers and tools for use in the trade.

Before long, Latham was also exporting their products around the world. Latham Australian-made architectural building products were specified for some of the most iconic buildings in the world. From the Sydney Opera House to the Petronas Towers in Kuala Lumpur, to Singapore's famous Changi Airport, you can find the enduring quality and functionality of Latham products.
Very early on, the high manufacturing quality, outstanding performance and many satisfied customers led to Latham's well-deserved reputation for being the best product for the job in their markets. Architects specify Latham products by name because they know the reliability and the broad range of choice they offer. If a building design does not match an existing Latham solution, Latham will work with the designers to manufacture a product that will exactly meet the specifications for the job. And so, the range of products gets broader every year.
As the range of Latham products has expanded over the years, it has included new designs to keep abreast of evolving safety standards and design trends. Latham has a product for every application, from the lightest use right through to expansion joint covers designed for use in earthquake zones.
To talk to a Latham product expert, call 1300 LATHAM (528 426) or email sales@latham-australia.com