A loading dock connects the storage area of a warehouse or industrial building to the area where goods vehicles are loaded and unloaded.
Did you know that Latham manufacture dock bumpers?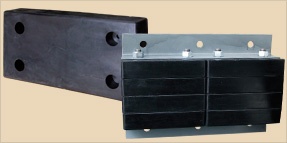 A loading dock connects the storage area of a warehouse or industrial building to the area where goods vehicles are loaded and unloaded. Loading docks are designed to make it easy and efficient for vehicles to reverse into position and load or unload.
Most loading docks have an overhead cover to protect vehicles from the weather, an elevated entry, and a rectangular opening to accommodate the truck body or trailer. Workers will use either forklifts or pallet jacks to load or unload cargo from the vehicle.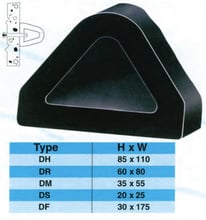 When a truck reverses up to a loading dock, contact between the vehicle and the loading dock is common, and this can result in damage to either. To prevent damage in the event of contact, a dock bumper is installed beneath the dock opening.
Loading dock bumpers are typically made of rubber. The rubber compresses on contact to absorb the impact shock, protecting the vehicle and dock from impact damage and against the up and down movement of the truck bed as weight is added or removed during loading and unloading.
Latham Dock Bumpers – the quality you'd expect from Latham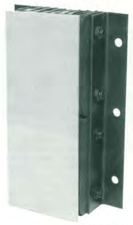 Depending on the model specified, Latham Dock Bumpers are made from either resilient, uniform-size, fabric reinforced rubber pads cut from selected recycled truck tyres and conveyor belting, or moulded blocks made from predominantly recycled rubber. They are pressure laminated between heavy structural steel angles and reinforced with 18mm steel tie rods. Positive anchoring through heavy steel plate ensures permanent installation.
Latham Dock Bumpers have a modern design and attractive appearance. They are applicable to any type of construction and are quick and easy to install. Latham Dock Bumpers should be specified for maximum protection for all loading docks on warehouses, freight terminals, post offices, hotels, supermarkets and other commercial, industrial, or institutional buildings with heavy dock traffic.
Unlike solid steel or wood-plank bumpers, Latham Dock Bumpers virtually eliminate chipping and abrasion, and destruction tests have demonstrated that they cushion and absorb up to 80% of impact. Latham Dock Bumpers are available in horizontal and vertical units in standard, extra thick and extra heavy-duty configurations.
____
For 70 years, the Latham name has been synonymous with quality and Latham products are the first choice of construction professionals throughout the world. Latham have been the recipient of over 30 awards including numerous Australian Design Awards. Latham products can be found in many prestigious buildings around the world including the Sydney Opera House, Singapore's Changi Airport, and the Petronas Towers in Kuala Lumpur.
To find out more about Latham products, please visit www.latham-australia.com. To talk to a Latham product expert, call 1300 LATHAM (528 426) or email sales@latham-australia.com.