2020-21 has been a turning point for the construction industry. The global pandemic, combined with a looming deadline to reverse the effects of climate change, have forced us to completely rethink how we design our built environment to better manage infectious diseases and create a more sustainable future.
At a time where health and hygiene are high on the agenda, it's as good a time as any to remember that all of us leaders, creators, thinkers and doers have a duty to support people of all abilities and needs — always.
More than 4 million Australians are differently-able. Despite this, many designers and builders create spaces that limit accessibility for more than 18% of our population.
We in the industry need to ensure we design more inclusive built environments that are accessible and available to as many Aussies as possible. Inclusive design principles are human-first design and construction standards that meet the needs of people with permanent, temporary, situational, or changing abilities.
Understanding building access standards for people who are differently abled
Australia has a clear code of practice that building certifiers, developers and managers need to follow in order to ensure safe and dignified access to buildings and public spaces.
The Disability (Access to Premises) Standards were introduced in 2010 under the Disability Discrimination Act (DDA). These are designed to minimise the hazards for differently abled people in buildings and public spaces, and cover a number of different features such as visual indicators on surfaces and floors, railings and ramps, accessible WCs, floor surfaces, and more.
All buildings need to comply with these standards, which can be found on the Standards Australia website. Not meeting these could put others at risk, and also open a business up to a series of legal and financial liabilities.
How can barriers to disability be overcome? 3 ways to retroactively create a more inclusive built environment
In the best-case scenario, our buildings and spaces would be designed from the very start to support differently abled people. However, there are also a number of simple and effective actions that you can take to retrofit your existing building with features that look great and improve accessibility to those with different needs.
1. Install brass or stainless steel Tactile Ground Surface Indicators (TGSIs)
Tactile Ground Surface Indicators (TGSIs) are used to warn people who are blind or vision impaired that they are approaching a hazardous situation. These can typically be found before a set of stairs, a ramp or an overhead obstruction that they might bump into or injure themselves on.
According to the Building Code of Australia, the Australian and New Zealand Design Standards for Access and Mobility (AS1428.4), TGSIs must be provided in any building or public space. TGSIs have to be compliant for size, placement, and contrast, in order to give a consistent message to people who are blind or vision impaired.
Many TGSIs are made from rubber, porcelain or concrete and suited to public spaces, such as train stations or crosswalks: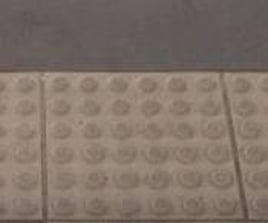 .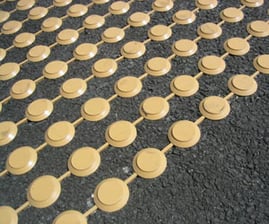 Image Source: Humanrights.gov.au
The good news is that TGSIs can be retroactively installed in any office building, making it a relatively simple accessibility challenge to resolve. However, these options may not blend in well in some buildings, such as hotels, offices, museums and shopping centres.
In these instances, it's best to opt for a visually attractive alternative that also complies with the luminous contrast requirements for AS 1428.4.
Brass or stainless steel tactile paving studs offer a sleek alternative to the traditional solutions, while also ensuring compliance with Australian Standards. These indicator studs can be installed in tiles, marble, granite, terrazzo, concrete, vinyl, timber and most solid flooring surfaces, and are available in a number of colours to match the overall design direction and provide contrast against different flooring surfaces.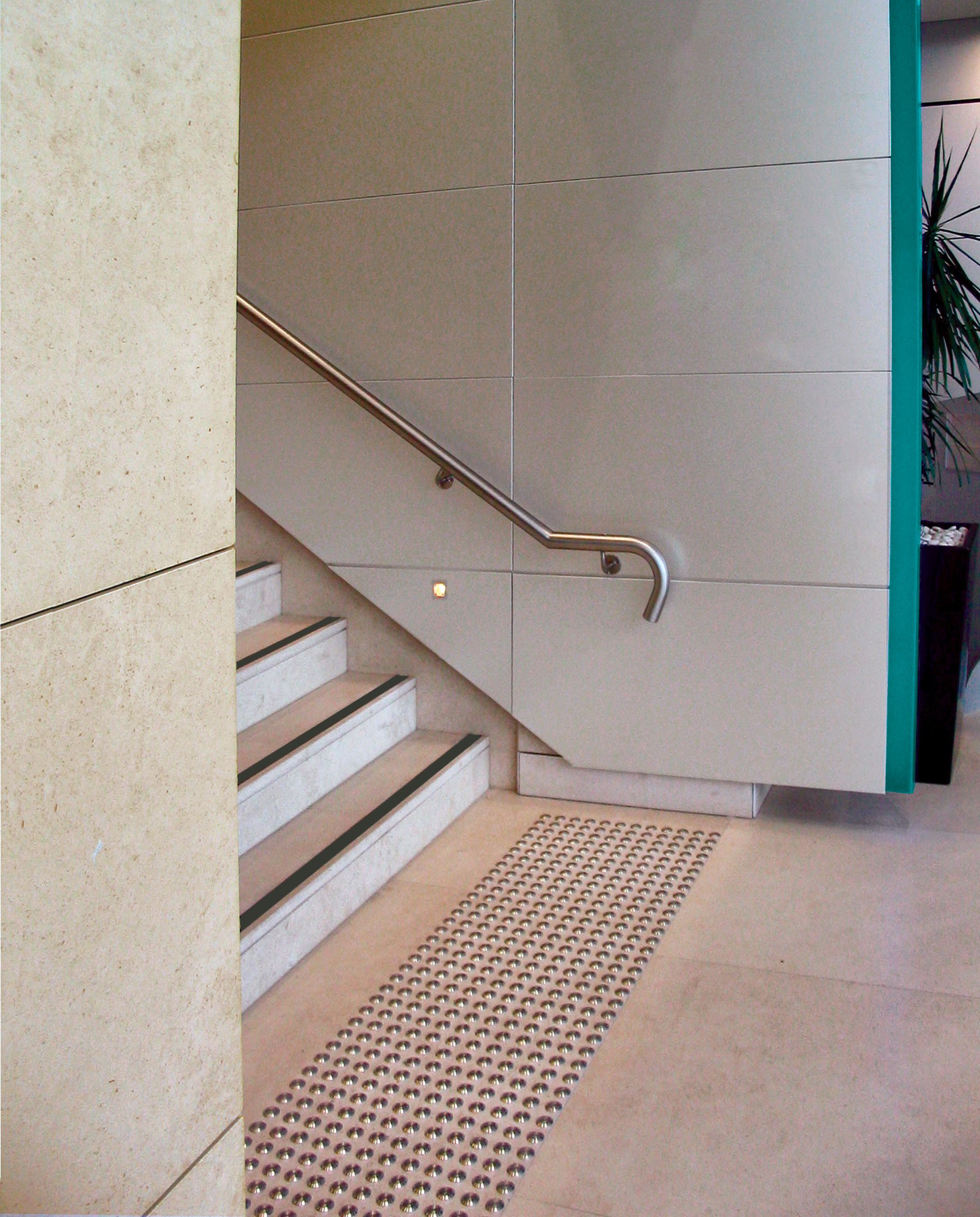 2. Incorporate effective stair treads and nosings
Stair nosings are helpful for all people in the community, but are particularly beneficial for those with a vision impairment. Many people who have vision impairments may not be able to accurately locate the edge of a tread on a stairway, such as in this example below: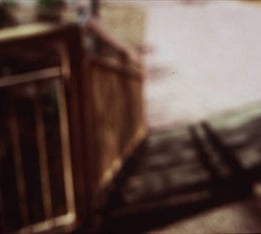 .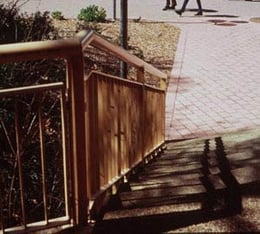 Stair nosing indicates the edge of a tread, in order to ensure that individuals can move safely up and down a stairway.
Both stairway access features need to be compliant with AS1428.1, which covers details related to the dimensions, placement, and luminance contrast of the nosings. Stairways need to have enough contrast for those with visual impairments to be able to distinguish the nose of the stair tread, and need to have continuous depth across the full width of a tread.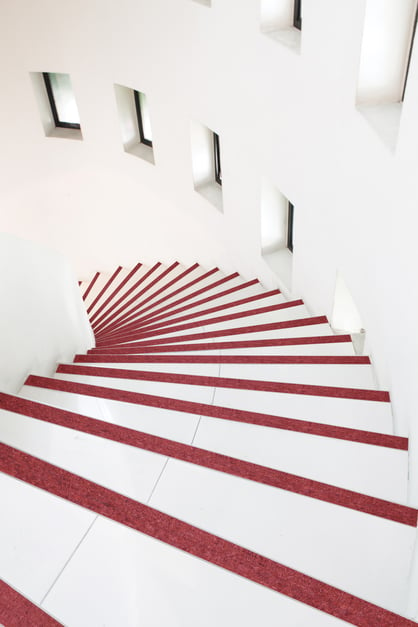 Like TGSIs, stair treads and nosings can be retroactively fitted into a space. A number of different options are available, depending on the respective building's requirements, environment, and when the space is being accessed. For construction sites, Extra Visual Stair Tread Nosings offer bold contrast against the surrounding floor finish; while Illuminated Slip Resistant Safety Stair Tread Nosings are ideal for low-light environments or buildings that are regularly accessed in the evenings.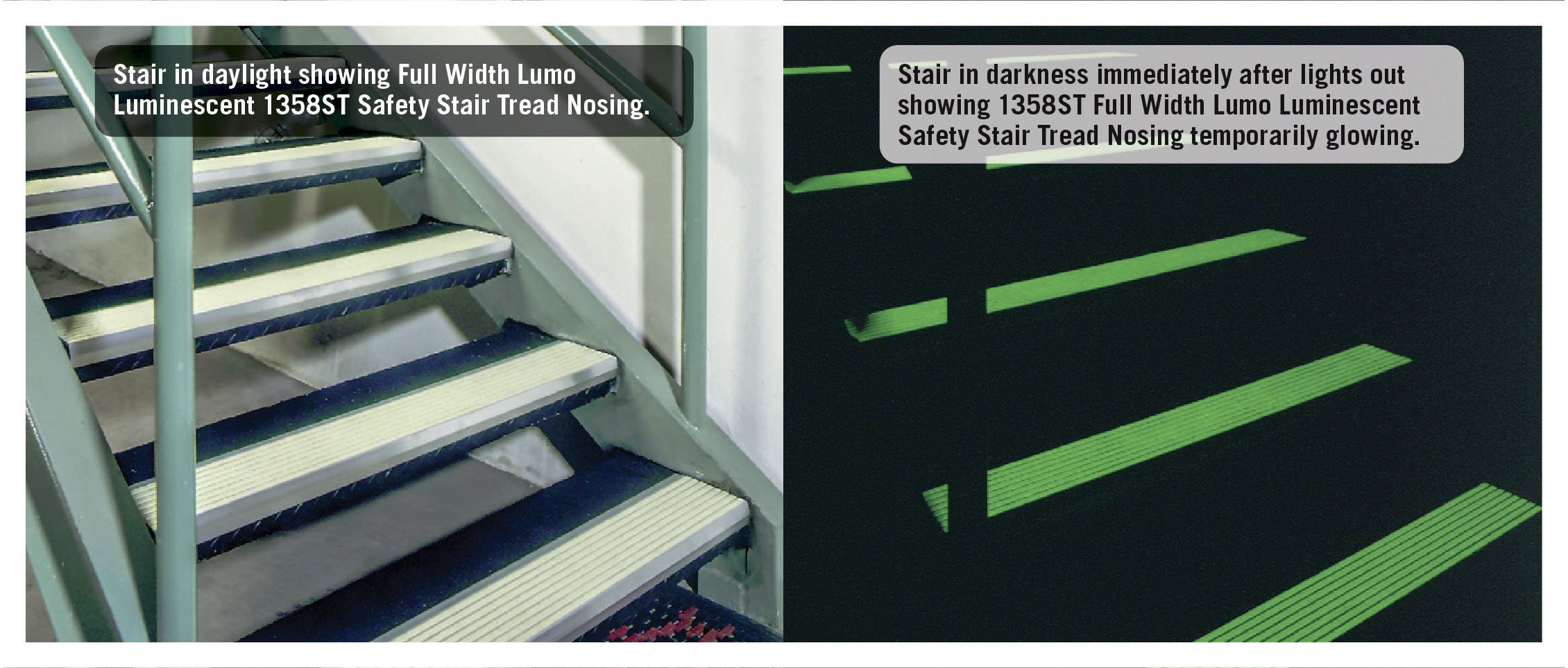 In addition, a number of stair treads and nosings can be curved to convex and concave for buildings with a spiral staircase.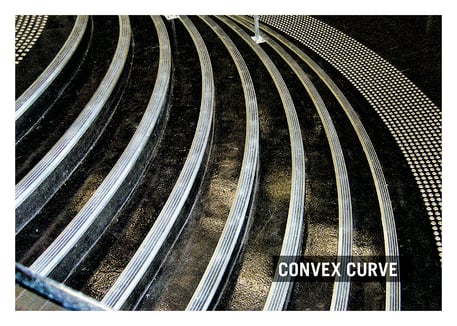 3. Improve the slip-resistance of your flooring surfaces
If you've ever been into an office after a rainy day, then you'll know the dangers of a slippery floor. Floor surfaces that don't meet slip resistance requirements can be challenging to walk on at the best of times — and for people with different mobility requirements, such as those who require crutches for assistance, it can be particularly hazardous.
Many buildings have highly polished floors. These may look slick, but the reality is that this is likely an indicator that the slip resistance requirements have not been met. What's more, when bright lights are cast on these highly reflective surfaces, the excessive glare can cause physical pain migraines in those with vision impairments: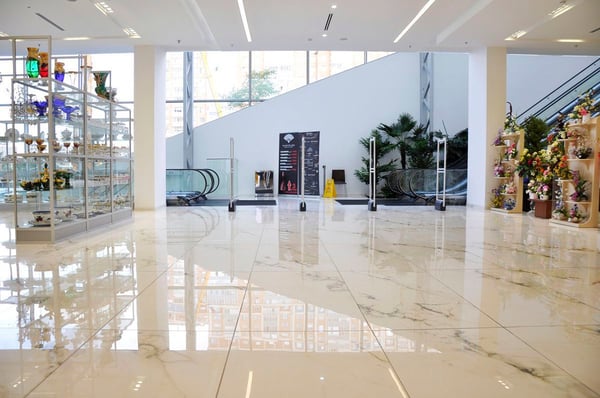 Image Source: Tiara Shopping Centre
The solution for most building managers or owners is to counteract the hazards of slipping by introducing carpeting in the entranceway for people to wipe their feet on. However, these carpets can also be a hazard in those with vision impairments if they are not properly secured.
AS 1428.1 sets out specific criteria for floor coverings to be traversable by differently abled people, and references AS4586 and HB197 for slip-resistance criteria. The Australian Standards also include different slip resistance ratings depending on the type of material used.
The best approach to ensure that your floors are accessible to those of all abilities is to have your floor coverings installed correctly from the get-go. Whether it's your stair treads or floors, it's best to work with the experts to ensure your floor surfaces are slip-resistant and don't produce glare.
In cases where it's not possible, there are a variety of products that can be retroactively applied to existing infrastructure to improve its safety, such as the Asbra SAF-T Safety Abrasive Slip Resistant Surface Coating or Suregrip Slip Resistant Paving Grain. These flooring systems can be applied by rollers, brushes, or trowels, and are ideal for surfaces such as stairways, ramps & platforms.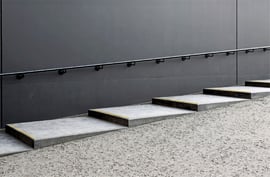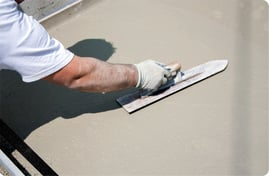 It's time for all of us to embrace inclusive design principles
Inclusive design doesn't need to be a challenge or an afterthought. With a commitment to accessible buildings and a trusted partner for safety stair and flooring products, we can ensure our built environments look great and serve all of those in our community.
Together, we can work towards the future of not just design, but inclusive-first design. The flow-on impacts to the community matter and all people deserve equal and dignified access — and all of us in the industry have a personal responsibility to grant it.