When you visit friends or relatives, you will often ask them, "should I take off my shoes to come inside?" because you don't want to bring dirty, dusty, or wet shoes in, which would spoil the condition of their floors. That is really just being thoughtful and having good manners. On the other hand, when you enter a larger building, even some places of worship, you probably don't give it a second thought. It's public space after all, and they expect you to come straight in. And so will all the dirt, dust and water, every single time.
How much dirt are you really bringing in?
The volumes of foot traffic in large spaces can be unimaginably high, over time. All the contamination that comes with this traffic has to be factored into the costs of cleaning, as well as the lifetime cost of the damage that it can cause. Particles of stone and grit can scratch and scar expensive floor finishes. Even the general dullness of the surface due to hundreds of footprints can begin to form tracks and trails across the open areas. Carpet, polished concrete and even stone, such as marble stairs, can all be damaged in this slow but certain way.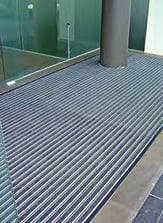 Now this is a situation where prevention is far better than cure. You really want to stop that dirt in its tracks. Well, it is possible. You can remove almost all of this damaging material by using a simple system from Latham Australia. Using Latham custom-made, high quality mats in all the entrance doorways means that visitors will effectively wipe their feet without being aware of it. This will stop the dirt from coming inside. The Latham custom entrance mat can be used in every entry to a building – even under revolving doors.
The beauty of the Latham entrance mat is that it is designed to remove dust, dirt, water and particles from the soles of shoes, hour after hour, and trap it below the mat surface. It will also cope with dirt on the wheels of carts or trolleys, which are another common source of contamination. The mat can then be rolled up for thorough cleaning of the captured matter as part of the regular cleaning and maintenance regimen.
Unique designs to fit any space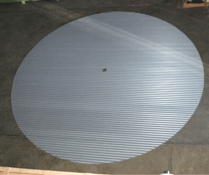 Latham's Australian-made entrance mats can be made in any shape or size, and in an extensive range of colours and surfaces to meet the design criteria of any building. We have surface-mounted versions as well as recessed models - which come with custom frames in a choice of metal, including the very popular brass.
Latham Australia has many years of successful experience, designing and evolving our wide range of products to meet and surpass all the standards that are expected of them. Latham also use the highest quality materials and manufacturing methods. If you put Latham products side by side with others, even compliant products, Latham's far better quality and design will be immediately apparent.
To find out more about Latham products, please visit www.latham-australia.com. To talk to a Latham product expert, call 1300 LATHAM (528 426) or email sales@latham-australia.com.