Latham Australia have been manufacturing our range of high-quality architectural and safety flooring products for over 70 years, right here in Sydney, Australia. Because we can make our products in such wide variety and to the precise specifications desired, just about all of our products are made to order. This means you will get the right products, in the exact colours, dimensions and quantity that were specified to do the job. It also means that a certain amount of time is required to complete and fill your order.
So, what are the factors that will influence the lead time when you do specify Latham products?
Lathams keep all the raw materials to make our products in stock, so there is no delay waiting for a ship to come in – we are ready to start manufacture as soon as it is scheduled.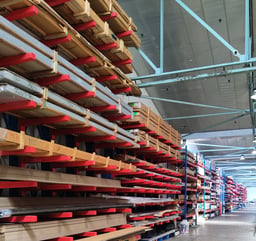 The key variable in determining the lead time for an order is the volume of product and how quickly we can produce that volume in our factory. There is a capacity constraint on any manufacturing activities – but at Latham we are well aware of our limits and we take this capacity into account when accepting each order.
The second variable is the product itself, as for some products, the manufacturing process simply takes longer – for example, allowing time for chemical bonding agents to set, or for finishes to cure. Also, the complexity or simplicity of the products does vary. Some of our more complex or heavy-duty expansion joint covers require longer to go through the production line.
The manufacturing lead time for a product may be varied further, if special requirements are added to the order – such as curving of stair tread nosings, to meet the architect's design, or choosing particular anodised metal finishes to match the colour scheme for the installation.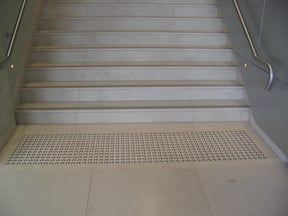 The final key variable in the production processing is the total volume of work going through Latham's factory at any time. Scheduling of factory production is a vital part of our management process. Our aim is to be on time, every time and we make every effort to meet the delivery date that we advise when our customers place their orders.
Some of our products require very little processing - these can be picked, boxed and delivered very quickly. Even then, our quality controls mean that we will take the time to check all the items and make sure that they meet our standards, and that they are properly packaged for transport to site. Here also, the volume of the order will have an influence on the time needed. Once again, when we receive an order, we will always advise a realistic delivery date.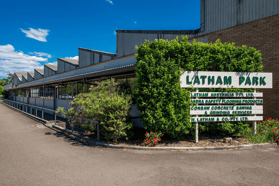 So, the answer to the question of "what is a typical lead time?" is that there is no standard, one size fits all, time requirement. A simple order for a small quantity may take 3 to 4 days, while a large, complex order may take 10 or more days to produce – it all depends. Made to order production at Latham Australia will take all the above factors into consideration and we will set the quickest possible lead time for the products and the volume specified, each and every time.
To find out more about Latham products, please visit www.latham-australia.com. To talk to a Latham product expert, call 1300 LATHAM (528 426) or email sales@latham-australia.com.