Stair Tread Nosings are a commonly used safety feature of steps and stairs in many styles of buildings, from offices to theatres, from town halls to universities, as well as public spaces. The nosings are designed to maintain the stairs in peak condition for safety and visibility as well as to protect the integrity of the stairs themselves. Most of the time you hardly notice they are there.
Almost all Stair Tread Nosings incorporate a lateral strip of an abrasive material so that the tread has a constant, high degree of grip, or slip-resistance. This allows pedestrian traffic to move up and down with confidence. Many treads also include the concept of luminance contrast, with the tread nosing being quite distinctively visible at the edge of the tread, which helps define the staircase very clearly. This feature, in general, will assist the vision-impaired and help keep them safe while they are out and about. So a Stair Tread Nosing has an important job to do, day in and day out.
Don't Compromise Safety By Specifying Poor Quality Products
Should a Stair Tread Nosing fail, it is no exaggeration to say that trouble will follow. There are some rather poorly made and cheaply assembled stair treads on the market, which may look suitable on the first day they go to work. After a while, however, their parts may start to loosen, they will rapidly lose their safe visible appearance, and the abrasive strips may even begin to separate from the mounting. In the very worst case, a poorly installed or broken nosing could come away from the stair tread.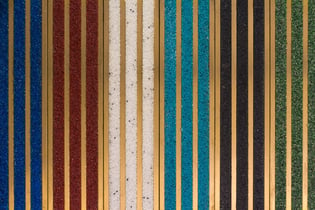 If any of that happens, people will slip, they will miss their steps and stumble or fall – with all sorts of consequences – or even hurt themselves on the loose pieces. The site of those stairs will very soon become well known as an unsafe location. Claims for damage and injury will follow. Some of these situations may seem far-fetched, but the fact is that building and facility operators cannot afford the risk of failure happening. You can't have visitors slipping over or getting into peril because corners were cut and the safety features of the site have stopped working.
Latham Australia has been making many styles of Stair Tread Nosing right here in Australia for over 70 years, using the best quality materials and the highest manufacturing standards, to ensure safety and compliance. Architects, builders and building owners all know that Latham products will not fail in use, and that they will enhance both the appearance and the performance of whatever site they are specified for. If you run the risk of substituting, it isn't worth the cost of failure.
To find out more about Latham products, please visit www.latham-australia.com. To talk to a Latham product expert, call 1300 LATHAM (528 426) or email sales@latham-australia.com