Latham Australia is widely known and respected as a long-established local manufacturer of "high quality architectural fittings".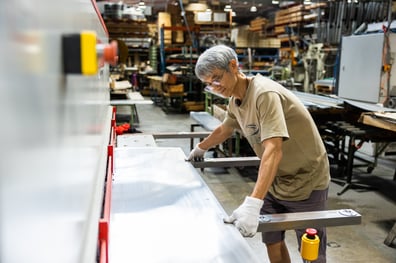 Do you ever stop to wonder just what "Quality" means in that context? We all use the term 'quality', but a precise meaning can be quite elusive. For some, it simply means 'fitness for purpose' or 'free from defects' or 'exceeds expectations'.
The ISO 8402-1986 Quality Management and Quality Assurance Vocabulary Standard defines quality as 'the totality of features and characteristics of a product or service that bears its ability to satisfy stated or implied needs'.
At Latham, we are proud to be judged on the totality of our products and the service we provide to our customers. We encourage customers to compare the quality of Latham with competing products – it's what drives us every day to be better.
At Latham, when we think of quality, we think of the following dimensions:
Engineering
With a deep understanding of the specific job that a product is intended to do, and the operational environment where it is intended to work, we engineer products to perform flawlessly for years and years.
Raw Materials
We always select the best grade of metal, rubber, and other components for the manufacture of our products. We never compromise. You cannot make a world-class product with inferior materials.

Manufacturing
We have manufactured products in Sydney for 70 years and we can ensure quality by having end-to-end control over the entire process.
Range
Because there are so many possible applications, we have developed different products to suit the widest range of customer needs.
Aesthetics
In addition to function and performance, Latham products are designed to achieve an architectural aesthetic that makes them suitable for any environment. Latham products are available in a choice of metal finishes and a wide range of colours.
Packaging
Our product must arrive at your site in perfect condition, so we take extraordinary care to ensure it is properly packed and protected for the journey.
Compliance
We manufacture our products to comply with relevant industry standards and regulations so you can deal with certifiers with confidence. 
Support
We know how important it is to get the right product for the job and our technical team will ensure that you specify the correct product for your application, and that the product complies with prevailing standards and legislation.
------

For 70 years, the Latham name has been synonymous with quality and Latham products are the first choice of construction professionals throughout the world. Latham have been the recipient of over 30 awards including numerous Australian Design Awards. Latham products can be found in many prestigious buildings around the world including the Sydney Opera House, Singapore's Changi Airport, and the Petronas Towers in Kuala Lumpur.
To find out more about Latham products, please visit  latham-australia.com. To talk to a Latham product expert, call 1300 LATHAM (528 426) or email sales@latham-australia.com.