In a world of competing products, one of the challenges for a specifier and a purchaser is to ensure that the product they choose is the one that is totally suitable for the job. Quality materials, precision manufacture, durability and performance are all part of the equation. Latham Australia has been making expansion joint covers that meet all these criteria for almost 70 years. The reputation of the Latham range is well deserved as the finest products in the market.
Latham Expansion Joint covers are so well regarded that they are frequently specified by name. When an architect specifies a Latham joint, that does not mean "something similar to a Latham Joint". What they want to see are real Latham Australia Expansion Joints in the finished building.
What are the differences that make Latham the product of choice?
Latham products have decades of engineering expertise behind them and have been received numerous Australian Design Awards.

The selection of high quality, beautifully engineered metal parts, made to order for Latham to our own design is the first differentiating element. We have worked with our suppliers over many years to ensure consistency and superb quality in all our parts.
Secondly, the design of the spring steel tie bars and the mounting methods all work to keep the joint cover perfectly in place, sometimes in the face of as many as six axes of movement.
Thirdly, our range of designs and sizes means that there is no need to compromise on structural integrity – there is always a Latham Expansion Joint to meet your specific requirements. All of our joints are made on demand, to our exacting standards, in our Australian factory.
You should also know that all our joints come in matched series, so that Floor, Floor to Wall, Wall, Ceiling and Roof junctions can all be handled with compatible, attractive joint covers for total satisfaction and performance.
We cater to your project needs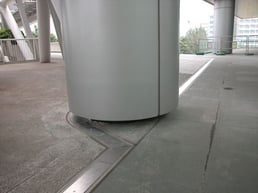 Our range covers the lightest duty joints through to joints designed to cope with seismic disturbance. We have an in-house team of engineering consultants ready to work with our customers to make sure that the selection of Latham Expansion Joints is exactly the right choice.
Wherever the need arises and whatever the design ideas are for the site, Latham Australia will work with architects and designers to create a new Expansion Joint cover for any special situation, internal or external. We are the specialists, and we know that our products will do the job.
Design, quality, precision manufacture, extensive range, comprehensive coverage and specialist assistance all add up to make the Latham Expansion Joint the most reliable, highest performance and lowest risk product on the market.
To find out more about Latham products, please visit www.latham-australia.com. To talk to a Latham product expert, call 1300 LATHAM (528 426) or email sales@latham-australia.com.