Whenever you are in a public area, the chances are you will encounter Stair Tread Nosings. They are installed for safety against slipping, and for improved visibility to assist the vision-impaired, as well as to protect the stairs from damage. In order to ensure fitness for purpose, there are important standards that apply to which Stair Tread Nosings can be used and how they are assessed.
High Quality
Poor quality nosing is easy to see, particularly in the months and years after installation. The profile will lift and warp, and will rattle when walked on. The abrasive insert will quickly deteriorate and, rather than enhancing safety and visibility, the nosing becomes a tripping hazard. But how can you recognise the good ones?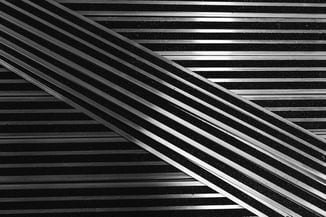 Latham Australia has been making Stair Tread Nosing in Australia for over 70 years and has a well-deserved reputation for making premium quality products that are fully compliant with Australian standards. So, if you find a Latham Stair Tread Nosing, that's a clear sign that it is high quality.
Understanding the Differences
Latham makes Stair Tread Nosing to two key specifications,
fully embedded slip resistant abrasive filling compound,

lighter duty abrasive insert strips.
In addition, there is an enormous variety of shapes and profiles in the range to suit every look and every purpose, so there is no need to compromise.
To tell a Latham Stair Tread Nosing from a cheap imitation is not difficult. It can be as simple as feeling the weight of the product before it is installed. Latham offers two metals – aluminium and brass – made to be robust and durable. They are thicker and will simply impart the feeling of better quality compared to light weight imitations.
The metal profile is designed to support the insert and Latham profiles have interior flutes that form a permanent bond with the abrasive insert. Abrasive inserts are available in the industry's widest range of colours ensuring luminance contrast between stair and nosing to satisfy all certification requirements. The abrasive surface will be beautifully level with slip resistance at the right grade for years of safe usage. The edges will be clean and bright and there will be no chance of the strip itself lifting out of the channel it is set into.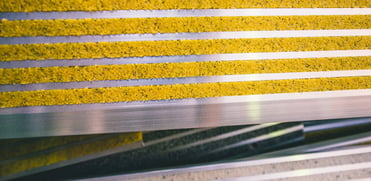 The installation characteristics of Latham Stair Tread Nosing also speak of quality. We recommend both gluing and screwing stair treads to the stairs, and we supply all the requirements for doing it. We provide colour-matched screws where requested. All the holes are accurately spaced and countersunk, every time. The resulting installation will stay in place doing the job for years and years, no matter how much foot traffic they need to bear.
Other Latham innovations include the decorative and additional safety enhancement that can come from using our Tredlite range of illuminated Stair Tread Nosing – with LED lighting incorporated into the structure of the nosing.
To find out more about Latham products, please visit latham-australia.com To talk to a Latham product expert, call 1300 LATHAM (528 426) or email sales@latham-australia.com