Almost everyone has seen Tactile Indicators – one of the vital safety products made and sold by Latham Australia.
These are the arrays of uniform raised buttons that indicate a change of level in a floor. That change of level could be the edge of a railway platform or a flight of stairs. They are designed to make it far safer and easier for vision-impaired people to navigate their way around public spaces and when inside larger buildings.
You may have noticed that there is always the same pattern to how discrete tactile indicators are mounted, and how visible they are. The reason for this standardisation is so that wherever they are encountered, they will give a consistent message. The Building Code of Australia specifies mandatory compliance with the standard that sets out how and where to use tactile ground surface indicators, AS/NZS Standard AS1428. (2009) - Part 4.1. "Means to assist the orientation of people with vision impairment".
Meeting Safety Standards Whilst Satisfying Design Preferences
Latham Australia has many years of successfully delivering compliant tactile indicators in a range of materials and finishes, suitable for many different sites. Let's look in detail at what the Standard requires.
Firstly, the physical dimensions of the individual tactile indicators must meet the standard. They must be circular, slope-sided with a base diameter of 35mm and a top diameter of 25mm with a raised height between 4 and 5mm. The base must sit flush on the underlying floor. This all makes the indicator "detectable by tactile means".
Next, the pattern of tactile indicators must meet the standard, both in the width and depth of the array, relative to the path of travel and in relation to the next surface level to be encountered. The pattern and position may vary according to whether they are used to indicate a ramp, a staircase (fixed or moving), a landing, the edge of a platform or of a road or a junction of two walkways.
Increase Accessibility
Tactile indicators are often used in combination with handrails, and in that case, the Standard also specifies the relative positions and layout of the tactile indicators and the rail. This also applies to moving walkways which also have moving handrails. Once again, this is designed to give consistent, clear warning of what the vision-impaired person is approaching and how they should deal with it.
Not all "vision-impaired" people are completely blind. Many have partial sight therefore, the issue of luminance contrast is another vital point dealt with under the Standard. Tactile indicators must have not less than 45% contrast to the surrounding surface if they are of a single colour, and if they have coloured tops, the top must have a contrast to the base as set out in the Standard, which also specifies the exact measurement methods to be used.
Tactile Indicator Stud Supagrit Colours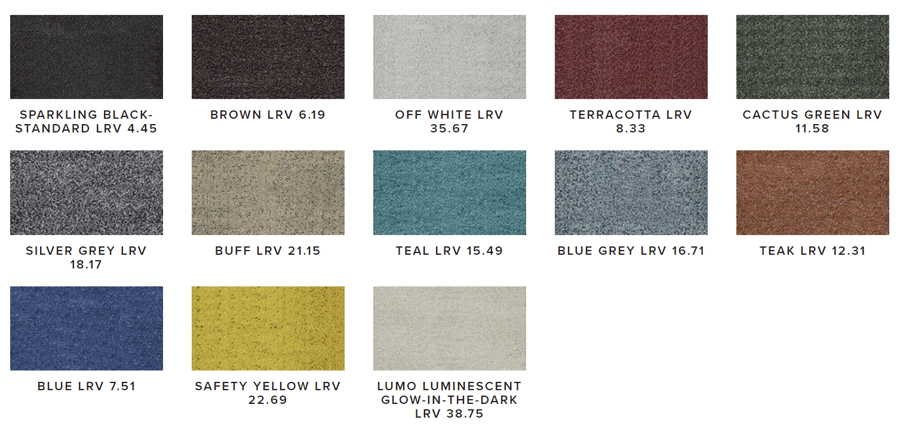 So, there is a lot more to Tactile Indicators than just buying them and applying them.
Latham Australia has many years of experience, designing and evolving our wide range of products to meet and surpass all the standards that are expected of them. Latham use the highest quality materials and manufacturing methods. If you put Latham products side by side with others, even products that might also comply, Latham's far better quality and design will be immediately apparent.
To find out more about Latham products, please visit www.latham-australia.com. To talk to a Latham product expert, call 1300 LATHAM (528 426) or email sales@latham-australia.com.