The purpose of tactile indicator studs is to create a textured ground surface on public pathways and access routes with a distinctive, consistent and readily-recognised surface pattern that is detectable by a long cane or underfoot. The textured surface is used to assist vision-impaired pedestrians to navigate the urban landscape and alert them to the presence of potential hazards and provide directional information.
Unlike other construction safety materials such as handrails or non-slip step treads — which have more general pedestrian safety applications — tactile indicator studs are specifically designed to assist those with vision impairments.
Safety Standards of Tactile Indicators
The Australian Human Rights and Equal Opportunity Commission released guidelines on access to buildings and services in 2007, under the Disability Discrimination Act 1992. This recommends the use of AS/NZS 1428.4 Design for access and mobility – Tactile Indicators.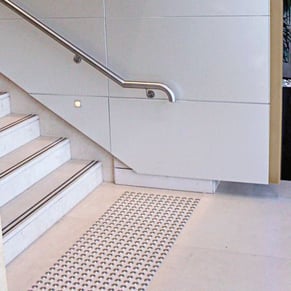 The Building Code of Australia (BCA) specifies at D3.8 where tactile indicator studs must be provided and requires compliance with the relevant parts of AS 1428.4 that specifies technical details such as size, location and luminance contrast.
For example, the standard states that tactile indicator studs are required to identify the top nosing and the bottom riser of a staircase, or the beginning and end of ramps. The array of tactile indicator studs must have a minimum depth of 600mm, and they should be set back by 300mm +/-10mm from the top nosing and bottom riser. In addition, the array must be placed across the full width of the path of travel and have a minimum of 30% luminance contrast compared to the surrounding floor/ground surface.
When a vision-impaired pedestrian detects tactile indicators underfoot, they will know that they are 300mm from a stairway or a change in gradient.
Tactile Indicator Studs and Intermediate Landings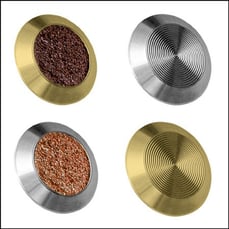 Tactile indicator studs are only required on an intermediate landing if there is a break in any handrail that is required to cross the landing. Vision-impaired pedestrians will often use the handrail as their guide when using stairs. Often the handrail on a landing will end if another path of travel, such as a walkway or a door, enters the stairway. For a vision-impaired pedestrian, the break in the handrail might mistakenly be interpreted as having reached the top or bottom of the staircase. Similarly, a vision-impaired pedestrian entering the landing from a cross walkway needs to be made aware of the presence of a stairway.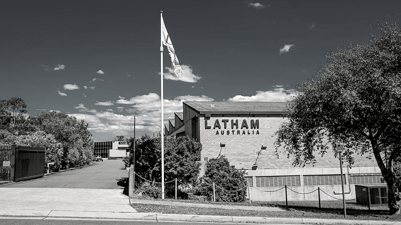 Latham Australia is a third-generation family-owned business founded in the early 1950's. They pioneered the manufacture of tactile indicator studs in the Australian market in the 1980's. The Latham tactile indicator stud range is considered the go-to option for architects and builders seeking the most trusted construction products on the market.
To find out more about Latham products, please visit latham-australia.com. To talk to a Latham product expert, call 1300 LATHAM (528 426) or email sales@latham-australia.com