Australian bushfires devastated the east and west coasts in the Summer of 2020, leaving thousands of people without homes, and our native wildlife in perilous conditions for rehabilitation. An initial estimate of the death of 1 billion animals is now considered conservative, according to Chris Dickman, a University of Sydney ecologist who calculated the original death toll.
With the wake of a pandemic to follow, and lockdowns and social distancing challenging those assisting to rehabilitate species trying to survive in the apocalyptic landscapes, the Australian Government has identified 119 animals of priority status needing urgent management intervention.
These statistics are a wake-up call. As the builders of this country, there are plenty of things we can do now to help protect the future of our native wildlife, starting with how we buy and use land, manage feral animals, and build processes around our construction that enhances the safety and longevity of Australian Native species.
Australia's native wildlife is at risk
Simply put, the current process of housing development and construction favours our own luxury over the livelihood of our wildlife, and this has affected the fate of native animals during natural disasters, such as the 2019 bushfires.
There is a long list of native species that simply cannot live in areas where human activity is building, forcing them to the farthest edges of their habitat and into areas that are ripe for natural destruction.
"I don't think it's widely thought about or known how massive the impact of urban development is on biodiversity in this country," says RMIT sustainability and urban planning expert Sarah Bekessy.
Today, nearly 300 Australian species are at risk of disappearing, including the black-flanked rock wallaby, the eastern curlew, the Gouldian finch, the northern quoll and the black-footed tree rat.
According to Don Driscoll, a sustainability expert at Deakin University, feral animals such as foxes, deer and pigs — a major threat to native animals — will also move through landscapes on roads that are being built by people.
With bushfires impacting the future for wildlife in Australia, just being aware of these facts during development and construction is a start, but let's talk about the steps we can take towards safe-guarding those members of our community who don't have a voice to speak for themselves.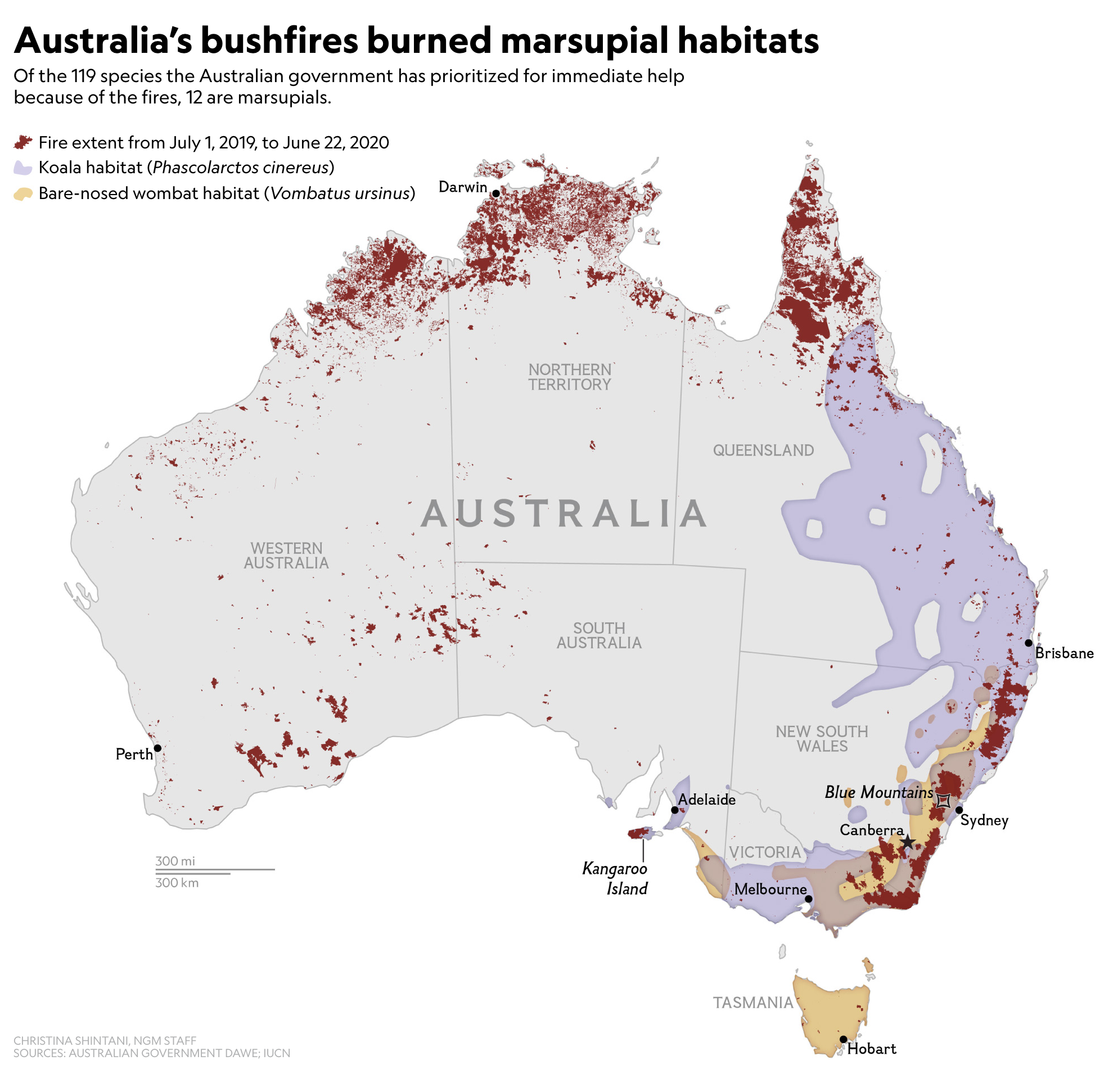 Source: National Geographic
Steps towards wildlife safety in 2020
Professor Sarah Bekessy, talks about how it's preferable to buy and build on land that's already cleared. This includes "fairly degraded, agricultural land" that can be revegetated.

You can consider using animal-friendly materials

or providing additional habitats for animals during construction. Examples include possum houses, bird-friendly glass, bird bowls, and bat boxes.



You can ensure you are using materials that are not prone to fires, as outlined by the New South Wales Rural Fire Service.
You can consider research into technology to help future proof our native wildlife. For example, you can take inspiration from ecologists working on shelters that allow animals affected by the fires to find safety until they can be helped.


"A lot of our mammals are only existing in small populations or in really fragile habitat. There might not be many habitats remaining for that species, so the impact on that wildlife can be more damaging."
Since animals cannot talk, we need to talk for them. If we can learn anything from the devastation of bushfires in Australia, it's that we need to work towards a future where we lead the way in animal conservation and safety as we build our urban areas, or face a world were our famous furry friends will be extinct by 2050.