Drainage and water management is a critical consideration in construction. Commonly used for the rapid evacuation of surface water, a trench drain is characterised by its long length, a channel-shaped body and a grating that is flush with the adjoining surface.
Trench Drains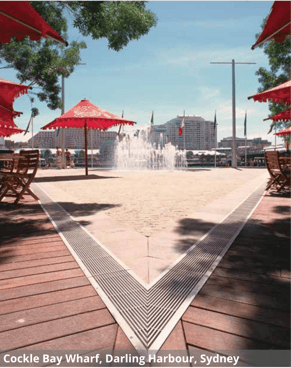 The drain is commonly made of concrete or may utilise a liner to aid in channel crafting and slope formation. The cross-section of the drain is a function of the maximum flow volume anticipated from the surrounding surface. Channels can range from 25 mm to 600mm width, with depths that can reach 1,200mm.

To prevent people tripping or the trench becoming clogged with debris, the trench drain must be covered with grates. The grate must facilitate water flow and comply with safety regulations to prevent, for example, heels or wheelchairs becoming stuck. The grate must also achieve the desired architectural / aesthetic look.

In addition, factors such as cost, wear patterns, total load, weather patterns, maintenance and need to be considered when specifying grates and frames.
Lathamgrate™ Grates and Frames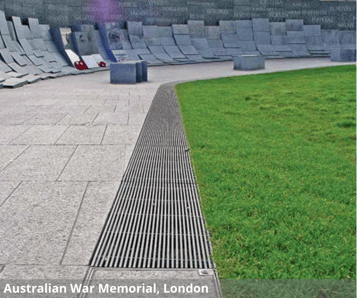 The Lathamgrate™ aluminium and brass trench grates and frames are an economical, functional, and attractive solution to exterior and interior drainage issues.
Aluminium is lightweight and durable and develops an invisible oxide layer that prevents rusting. Brass is an alloy of copper and zinc that is harder than aluminium and is highly resistant to corrosion and weathers to a rich bronze colour.
Lathamgrate™ grating bars are 6.5mm wide and are spaced at 13mm centres. This combined with the serrated surface helps provide pedestrian safety. The closely spaced bearing bars conceal the hidden welds that hold the systems together. This provides rigidity and reduces the possibility of high heels being caught between the bars. The closely spaced T's also mean that less debris will get into the drainage system, reducing the opportunity for blockages.
Compliant with AS 3996-2006
The Lathamgrate™ Series carry load class rating information in accordance with AS 3996- 2006. Systems are designed for pedestrian applications and comply with Class A of AS 3996- 2006. Grates can be supplied for household and light duty commercial driveway type traffic and will comply with AS 3996- 2006 Class B and C. In addition, the Lathamgrate™ Series have been tested in accordance with AS 4586:2013 Slip Resistant Classification of New Pedestrian Surface Materials.
Thermal Expansion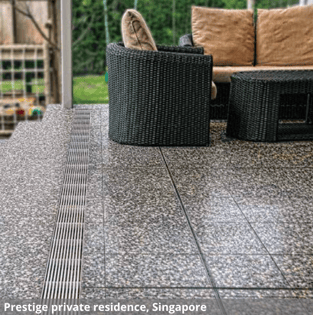 Where grates and frames are to be installed in direct sunlight, special consideration should be given to the thermal coefficient of linear expansion of the metal. The expansion of aluminium and brass is quite similar and is about 0.25mm per lineal metre of metal per 10ºC in temperature change in the metal. A 3-metre section subject to an annual temperature change of 50ºC will expand over the 3-metre length by approximately 3.75mm.
All grates are manufactured slightly under frame size to allow for fitting and removal. When grates are being installed in a long continuous run, Latham recommend that 3-5mm gaps be left between each length.
The Lathamgrate™ range includes trench liners, grate supports and grate for trench widths up to 300mm. The serrated texture provides a dynamic yet contemporary appearance that compliments todays and tomorrow's architectural designs.
--------
Latham is a third-generation Australian family-owned business that has been manufacturing premium quality and high-performance flooring products in Sydney for almost 70 years.
Latham products are exported to Great Britain, Europe, Southeast Asia, the Middle East, and the Pacific Region. The name Latham is synonymous with quality and Latham have been the recipient of over 30 awards including numerous Australian Design Awards. Latham products can be found in many prestigious buildings around the world including the Sydney Opera House and the Petronas Towers in Kuala Lumpur.
To find out more about Latham products, please visit latham-australia.com. To talk to a Latham product expert, call 1300 LATHAM (528 426) or email sales@latham-australia.com