Australian Standards set out specifications, procedures and guidelines that aim to ensure products, services, and systems are safe, consistent, and reliable.
On their own, standards are voluntary and there is no requirement for the public to comply with standards. However, State and Commonwealth governments often refer to Australian Standards in their legislation, and when they are incorporated into legislation, they become legally enforceable.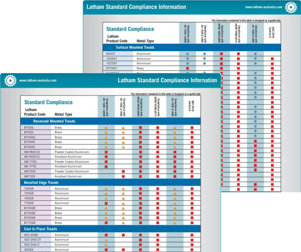 It is very common for standards to be incorporated into law, with obvious examples including, the placement and availability of fire extinguishers and standards surrounding car seat fittings for infants. For Latham, key standards include AS 1428.1:2021 Design for Access and Mobility and AS 4586-2013 Slip Resistance Classification of New Pedestrian Surface Materials.
For participants in the construction industry, this is a potential minefield that needs to be carefully navigated, and requires an understanding of compliance, conformance and certification.
Compliance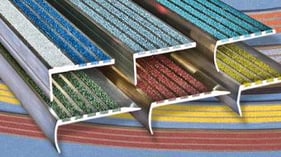 In the case of products, standards compliance means that the product strictly adheres to the requirements stated in current published standards. It is worth noting that compliance to an Australian Standard is not enforced or monitored in Australia. A manufacturer may claim compliance based on self-testing and buyers should beware that the product may be sold with unsubstantiated claims of compliance.
Re-sellers of imported product often rely on assurances of compliance from the manufacturer, or they may perform their own rudimentary testing before claiming 'compliance' and commencing sale of the product. With little influence over manufacturing, manufacturer testing or quality control, or failure to pay attention to evolving and updated standards, compliance is not a 'given'.
Importantly, compliance does not mean identical engineering, materials, design and manufacturing, and there are vast differences in quality, reliability and performance between compliant products.
Latham has been manufacturing products in Australia at its premises in Sydney for 70 years. End-to-end control and oversight of procurement, manufacturing and quality control results the industry's most reliable and high-performing products. Latham publish test results to demonstrate compliance with prevailing standards and have in-house testing facilities for luminance contrast testing of stair nosings to further minimise compliance risk.
Conformance
In many cases, industry standards are old and are not worded with the precision of more recent standards documents. This means that interpretation of the standard is often more subjective than objective. Latham have a deep understanding of industry standards and our team offer conservative interpretations of standards based on accumulated industry experience.
Rather than trying to shoehorn a specific interpretation of a standard into a limited product range, the Latham product range is intended to cover any interpretation of a standard and is the widest product range in the industry. Irrespective of the application, Latham has a compliant product in its standard range.
Certification
Once a product has been installed, the building certifier is the final arbiter of compliance and conformance. A building certifier is a trained professional who will inspect and approve building work and make sure it complies with the relevant aspects of approved building plans and appropriate building standards.
Latham will ensure you select a compliant and conforming product for your application and eliminate certification risk.
To talk to a Latham product expert, call 1300 LATHAM (528 426) or email
sales@latham-australia.com
We look forward to hearing from you.