1.

Select a Stair Nosing that is Appropriate for the Environment Where it is To Be Installed
Assess the type and volume of foot traffic and whether the nosing will be exposed to trolleys or other equipment. A lightweight profile in a high traffic area will wear quickly and result in a short lifespan. Similarly, when more decorative profiles are subject to high traffic, they will quickly scuff and deteriorate.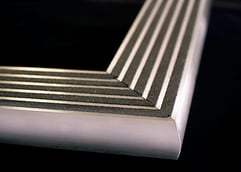 Latham stair nosing comes in a wide variety of weights and grades, and we have a product for every application. Other Latham innovations include the decorative and additional safety enhancement that can come from using our Tredlite range of illuminated Stair Tread Nosing – with LED lighting incorporated into the structure of the nosing.
2.

Ensure the Stair Nosing is a Good Fit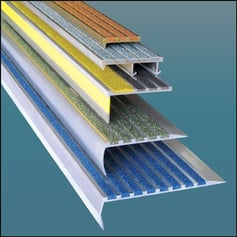 Make sure the profile of the stair nosing closely matches the profile of the stair. Latham nosing comes in a wide range of different profiles to match any stair, including L-shape and curved face nosing and flat nosing that sits on the stair tread. While Latham can supply nosings in standard lengths of 4.6 metres to be cut-to-length on site, which can offer a good cost advantage, most clients opt for nosing to be supplied pre-cut and pre-drilled for easy installation and Latham can also supply colour-matched screws for a professional finish.

3.

Make Sure the Stair Nosing is Properly Installed
Proper installation is critical to ensure a long working life. Latham recommend that the stairs are thoroughly cleaned, level and free of cracks before installation. To install, Latham recommend using a good quality industrial adhesive and affixing the nosing with screws using the pre-drilled spacings.
4.

Regularly Inspect and Clean the Stair Nosing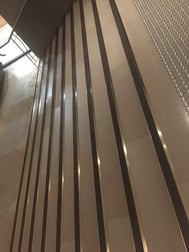 Stair nosing should be routinely inspected to ensure the nosing is tight fitting and that there are no damaged inserts. With heavy foot traffic, there might be a build-up of dirt and grime that can reduce the effectiveness of the non-slip insert and alter the luminance contrast of the stair nosing.

Latham recommend that stair nosing is periodically cleaned to remove dirt or grease. Nosing should be brushed with a stiff brush and then vacuumed to remove loose dirt, and the inserts should be cleaned using a neutral pH cleaner such as Latham GOLD CHEM, rinsed and mopped to remove excess water before allowing to air dry.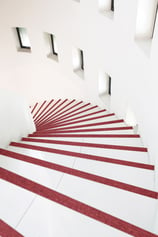 With proper selection, installation and maintenance, Latham Stair Tread Nosings will stay in place doing the job for years and years, no matter how much traffic they are exposed to.
Latham Australia has been making compliant, high quality Stair Tread Nosing in Sydney for over 70 years, adapting, and evolving the designs as industry standards have changed over that time. We have a team of technical experts who are happy to discuss the needs of architects and designers, to ensure that compliant Stair Tread Nosings are specified.
To find out more about Latham products, please visit latham-australia.com To talk to a Latham product expert, call 1300 LATHAM (528 426) or email sales@latham-australia.com