Entrance mats are designed to go relatively un-noticed, doing their job, day in and day out. But not all entrance mats are the same. There are some cheap and nasty imitations out there, pretending to be as good as the high-quality mats from Latham Australia.
Thorough testing for Latham entrance mats
The features of Latham Australia's entrance mats have all been tested, to ensure that they are compliant with slip resistance and fire-retardant standards and that they will last and last, and not wear prematurely, even under the heaviest pedestrian traffic conditions. Let's look at these tests in some more detail.
Slip resistance is a very important quality of an entrance mat. By selecting a Latham mat with full abrasive infills across the width of each section, the highest possible slip resistance rating is assured. Latham manufactures mats in Australia, using our many years of experience in applying thoroughly tested, slip resistant fills to our custom metal profiles. Our carpet-infill and vinyl-infill mats are also tested in NATA-accredited labs under AS 4586 slip resistance tests where they consistently achieve high results, published in full on our product pages.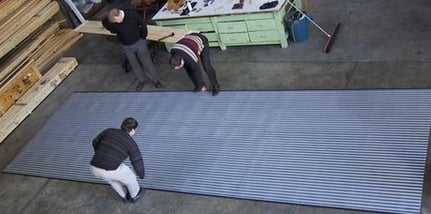 The mat strips are combined with the flexible connector hinge which also forms the mat footing, before being cut to the exact size required and then framed or edged as needed. Even the base of the mat is designed to hold the mat in place – it won't slip and neither will pedestrians, no matter the weather.
Fire rating of entrance mats is another key factor to consider. Latham entrance mats of all types have passed AWTA Product Tests of burning behaviour and once again the full results are available on our product pages.
Latham entrance mats have also been extensively tested for their hard-wearing characteristics. The results all showed "no observable physical damage" from the tests, which is exactly how they were expected to perform. That's how they were designed and manufactured, after all.
Yes, Latham's Australian-made entrance mats of all varieties have passed their tests. They are slip resistant, fire retardant and exceptionally hard wearing, and we are proud to show you the results. They will go on doing the job for years and years. Will the competition? Why take that risk?
Entrance mats are customised for your design needs

Latham Australia's entrance mat range can be made in any shape or size, and an extensive selection of colours and surfaces to meet the design criteria of any building. We make surface-mounted versions as well as recessed models - which come with custom frames in a choice of metal, including the very popular brass.
Latham use the highest quality materials and manufacturing methods. If you put Latham products side by side with others, even compliant products, Latham's far better quality and design will be immediately apparent.
To find out more about Latham products, please visit www.latham-australia.com. To talk to a Latham product expert, call 1300 LATHAM (528 426) or email sales@latham-australia.com.