One of the most common questions fielded by the technical team at Lathams is 'Do I need stair nosings in my building?'. In this article, we'll endeavour to provide some clarification and guidance.
The first reference point is AS1428.1. This is a set of design guidelines for accessibility and mobility in buildings published by Standards Australia. The standard applies to new construction and renovation of existing buildings and has a section for retrofitting existing buildings to make them more accessible.
Clause 11 of AS1428.1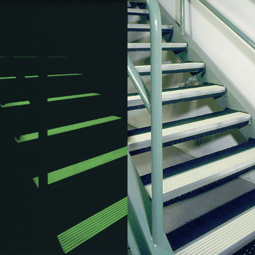 Clause 11 of AS1428.1 covers the design requirement for stairways and includes guidelines for the width and height of steps, the riser and tread sizes, the nosing profile, and the handrails. It also specifies the need for stair nosings to have a contrasting colour to the stair surface.
Clause 11 states that the luminance contrast between the stair nosings and the stair surface should be a minimum of 30%. This means that the light reflectance of the stair nosing should be at least 30% higher than the light reflectance of the stair surface. In addition, the luminance contrast strip must be between 50mm and 75mm wide and cannot be set back from the tread/riser intersection by more than 15mm.
The purpose of this contrast is to ensure that the stair nosings are easily visible for people with visual impairments or in low light conditions, reducing the risk of tripping or slipping.
On their own, standards are voluntary and there is no requirement for the public to comply with standards. However, State and Commonwealth governments often refer to Australian Standards in their legislation, and when they are incorporated into legislation, they become legally enforceable.
AS1428.1 is enforceable by law
In this case however, the Building Code of Australia (BCA) has adopted AS1428.1 and requires mandatory compliance with that Standard and is enforceable by law.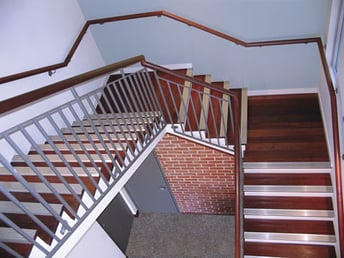 So, in response to the question "Do I need stair nosings in my building?" the answer is that due to its inclusion in the Building Code of Australia, you may have a legal obligation to comply with the luminance contrast provisions of Clause 11 of AS1428.1 and, if so, correctly selected and installed Stair Tread Nosings from a trusted and reliable supplier are the most straightforward way of ensuring compliance.
For clarity, what Latham refers to as Stair Tread Nosings are sometimes also referred to as Latham treads, step treads, anti-slip nosings, slip resistant nosings, or step nosings. Essentially, they all have the same function, which is to optimise luminance contrast and provide a non-slip surface on stairways to promote user safety.
Latham Australia has been making compliant, high quality Stair Tread Nosings at its manufacturing facility in Sydney for over 50 years. Latham have been adapting and evolving the designs as the Standards have changed over that time, and it is no surprise that Latham products are the preferred choice of architects and building managers.
Latham has developed a Luminance Contrast Calculator to assist you to determine which Latham colour combinations will work on your site and if you need further assistance, our team of technical experts can help you navigate luminance contrast requirements and ensure that compliant Stair Tread Nosings are specified.
To find out more about Latham products, please visit  latham-australia.com. To talk to a Latham product expert, call 1300 LATHAM (528 426) or email sales@latham-australia.com