Studies have shown that as much as 80% of the dirt and debris that enters a building comes through the front door on the shoes of building occupants and visitors.
Because of this, buildings have entrance mats. The purpose of entrance matting is threefold:
To scrape shoes and trap dirt

To dry shoes

To minimise damage to floors
What are the consequences of a cheap entrance mat?
Ineffective entrance matting systems allow dirt to enter the building which must be removed by cleaning, wet floors create slipping hazards and dirt reduces effective floor lifespan.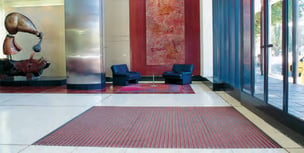 Let's work an example of the true cost to a building owner of different entrance matting systems.
In our example, let's imagine a city centre office with 500 workers with a main entrance off a busy street, and we'll focus on one element only - the dirt entering the building on the shoes of occupants.
"People don't wipe their feet when they enter a building –
they just walk in".
Studies have demonstrated that 500 people will bring 5 kilograms of dirt and debris from their shoes into a building over a one-month period, and that every kilogram of dirt will cost approximately $1,000 to remove.
On that basis, the baseline cleaning cost to remove that dirt is $60,000 per annum.
Let's consider the options
It is well established that a building must have adequate entrance matting for people to take several steps to remove dirt and water. Experts say that two steps outside the building and four steps inside is optimum.
When placed outside the entrance, a two-metre run of scraper matting can remove as much as 50% of dirt and debris before people enter the building. Once inside, a 4-metre run of combination scraping and drying matting will remove up to 85% of dirt.
Let's consider 2 alternate entrance matting systems – system one removes 30% of the dirt from the shoes of visitors. System two is a high-performance system that costs $1000 more but removes 80% of the dirt.
"With system one, 30% of the dirt is removed, meaning 42kg per year enters the
building requiring $42,000 of cleaning expenditure to remove".
With system two, 80% of the dirt is removed meaning 12kg enters the building requiring $12,000 of cleaning expenditure to remove.
So, using our example, the relatively small premium paid for high-performance entrance mats results in savings of $30,000 in annual cleaning costs, or three hundred thousand dollars over a 10-year lifespan.

Latham ensures a compelling ROI
By any measure, that represents a compelling ROI, but the greater value may well deliver even more savings as:
The efficiency of a low-performance system will deteriorate over time, and 30% dirt removal when new, might have degraded to 20% or less after five years. A high-performance system will deliver consistent dirt-removal performance for the duration of its service life.
The service life of a low-performance system may be as much as 50% lower than a high-performance system meaning earlier replacement costs.
This analysis is before considering the safety hazards from wet and slippery floor and the costs associated with reduced floor life such as carpet cleaning, carpet replacement or floor resurfacing.
Why choose Latham?
Latham Australia are experts in entrance matting.
Latham is a third-generation Australian family-owned business that has been manufacturing premium quality and high-performance dirt control entry mats in Sydney for 70 years.
Latham products are exported to Great Britain, Europe, Southeast Asia, the Middle East, and the Pacific Region. The name Latham is synonymous with quality and Latham have been the recipient of over 30 awards including numerous Australian Design Awards. Latham products can be found in many prestigious buildings around the world including the Sydney Opera House and the Petronas Towers in Kuala Lumpur.
To talk to a Latham product expert, call 1300 LATHAM (528 426) or email sales@latham-australia.com
We look forward to hearing from you.