With $10 trillion spent each year on construction and 7% of the world's working population working in construction-related professions, there's no questioning the industry's economic size and impact. Despite this, there is an obvious, underlying dormancy in the industry's productivity (productivity as the total amount of output per worker). Shown below, the productivity gap between the construction industry and other non-farming industries is exponential.
While other industries have adapted to technological advances to elevate output and heighten productivity, the construction industry has remained stagnant in favouring traditional methods. The construction industry's reluctance to embrace new technology is the driving factor as to why their productivity score is comparatively low in relation to other industries. With that in mind, let's look into why this disparity exists and what you can put in place to increase your productivity in all aspects of future projects.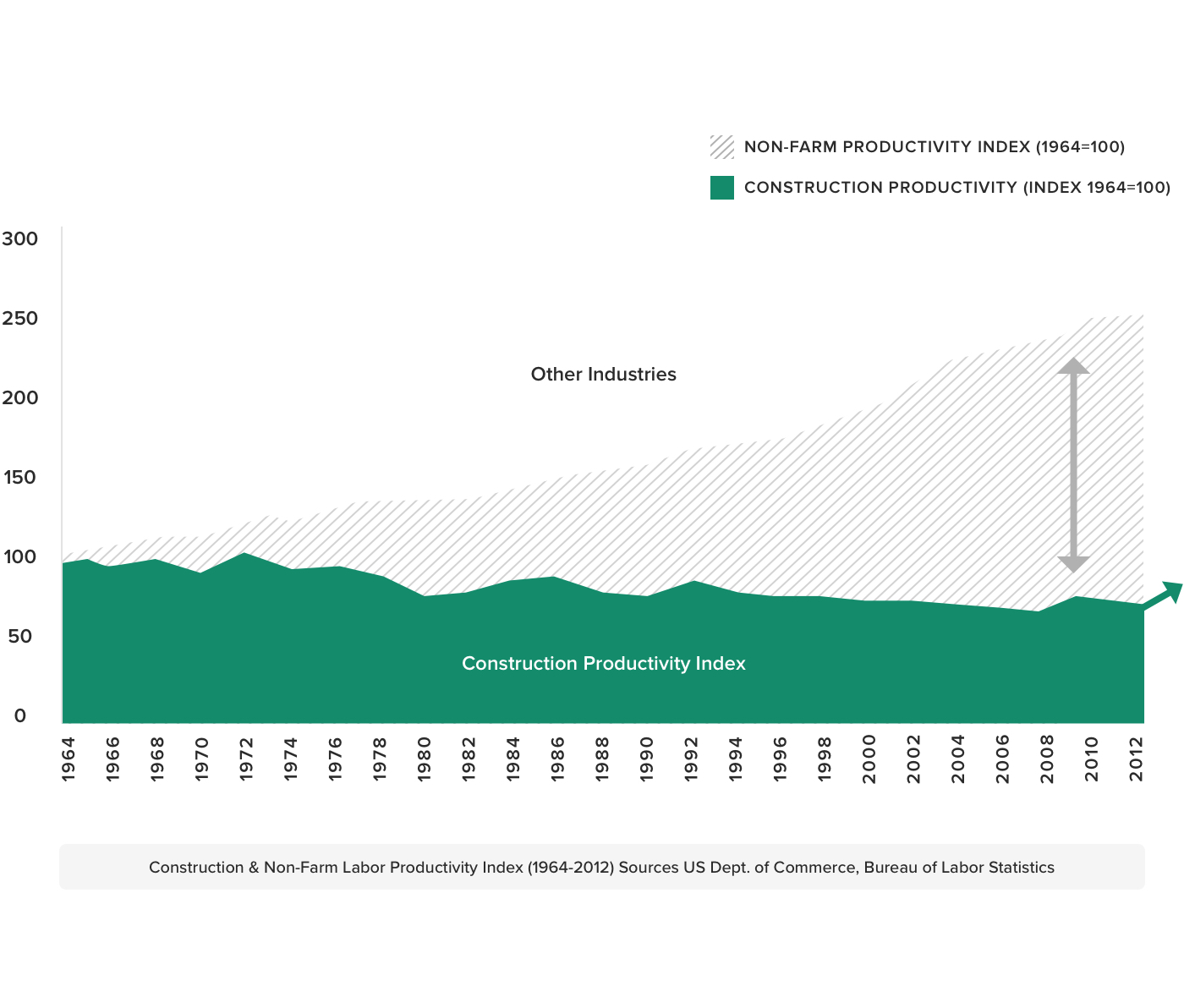 It is interesting to note that whilst productivity has remained stagnant in the construction industry, it has doubled in manufacturing, further, whilst technology has been swiftly developing and advancing, the construction trade is still reluctant to spend money on it, despite glaring increases in ROI across multiple industries.
"The smaller companies by and large exist on low margins which deters the upfront cost of investment in technology, even though it is likely to improve productivity in the long-term."
Construction professionals remain unaware of other productivity boosters which can elevate their output efforts, such as data, management and planning. With these factors in mind, let's dig into some actionable solutions you can implement to increase your, and your employees, productivity.
Solution One: Bring technology on-board
Any change to the status quo will be difficult to implement, especially when that change involves the introduction of new technology. The initial adoption stages will require upskill and training from the whole team, this partnered with the administration changes can be enough to deter one from appreciating the benefits. Not only does the consideration and implementation of technology boost productivity, but leveraged effectively can also boost your ROI - it's a win-win. For example, an onsite productivity or project management software like Joist App would not only cut delays exponentially but would also minimise any costs incurred from reworkings. You can check out our favourite top free apps and startups to discover some bonus technologies that will kick your productivity score up a notch.
Solution Two: Using data to improve planning
Good planning and preparation are synonymous to improvements in productivity, however, it shouldn't be relied upon as the sole contributor to success. Quantifying your planning and preparation with high-quality data can be incredibly insightful and is also readily available from previous projects or accounts. Looking at and analysing data means you can examine and quantify the entire end-to-end process of construction projects and identify productivity strengths and weaknesses. Industry workers should be striving to dig deep into the data provided by any and all previous projects in order to set benchmarks and facilitate learning and development. Tools like Procore are designed to assist construction teams in working more productively through data based on real-time labour productivity data entries.


Solution Three: Increase the use of prefabricated materials
Big projects are usually accompanied by repetitive tasks in an effort to create the materials needed for projects. These repetitive tasks can often lead to fatigue, boredom and lower productivity. What if I told you those tasks could be reduced completely? Prefabricated materials not only cut costs and repetitive tasks in half but also improve the productivity and quality of the project overall. According to Civil and Environmental Engineer Emeritus, Paul Teicholz, "If you can put the proper design content for prefabrication into the design from the beginning, you can achieve a very significant improvement." At Latham, we provide prefabricated elements to help workers in large projects, such as the Sydney Airport.
Next Steps
We understand and appreciate the time, effort and resources needed to adopt new methodologies and technologies, regardless of industry. By supporting and promoting productivity growth, however, through the solutions provided, you will notice a decrease in costs and delays as well as an improvement in competitiveness. And for those looking to elevate their productivity efforts in the construction industry you don't need to go far! We provide a range of prefabricated materials that will increase the productivity of your next project.