A popular misconception about tactile indicators is that they are used to create a slip resistant surface before a potential hazard, and often results in the belief that tactile indicators can be used for slip resistance on stairs.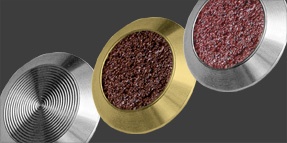 So, can tactile indicators be used on stairs?

The short answer is that they shouldn't be used on stairs and that there are far superior options for slip resistance and stair safety.
The purpose of Tactile Indicators
The purpose of tactile indicator studs is to create a textured ground surface on public pathways and access routes with a distinctive surface pattern that is detectable by a long cane or under foot. The textured surface is used to assist vision-impaired pedestrians to navigate the urban landscape and alert them to the presence of potential hazards where floor levels change and provide directional information.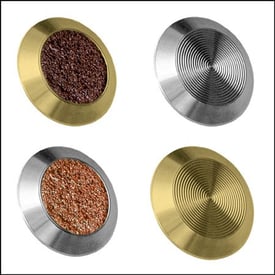 Unlike other construction safety materials such as handrails or non-slip stairs — which have more general pedestrian safety applications — tactile indicator studs are specifically designed to assist those with vision impairments.
The Australian Human Rights and Equal Opportunity Commission released guidelines on access to buildings and services in 2007, under the Disability Discrimination Act 1992. This recommends the use of AS/NZS 1428.4.2002 Design for access and mobility – Tactile Indicators.
The Building Code of Australia (BCA) specifies at D3.8 where tactile indicator studs must be provided and requires compliance with the relevant parts of AS 1428.4 that specifies technical details such as size, location and luminance contrast.
Tactile Indicators on Stairs
When used in a stair setting, tactile indicators are intended to warn those with vision impairment about the nearby presence of a staircase and not create non-slip stairs. The presence of tactile indicators on stairs might create confusion for a vision-impaired person and might also serve as a trip hazard.
Using non-slip Stair Tread Nosing

'

s to manage slip hazards on stairs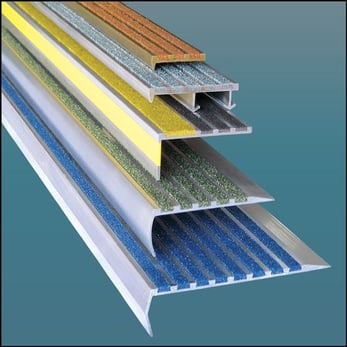 A stair tread is the horizontal portion of a set of stairs on which a person walks, and the leading edge of the stair tread is where foot traffic most frequently occurs.
As the leading edge is the most heavily trafficked part of the tread, it is subject to most wear and is the area most associated with slips and falls.
Stair Tread Nosings are attached to the leading edge of the stair tread and are made from non-slip silicon carbide or other special non-slip materials to improve visual contrast and grip on stairways to reduce the risk of pedestrian slips and falls and enhance public safety.
Non-slip Stair Tread Nosings in residential and commercial properties are therefore an important part of meeting Occupational Health and Safety requirements. According to industry standards set out by the Building Code of Australia, non-slip and non-skid surfaces must be installed on all pedestrian ramps, stairs, and landings, particularly in areas that receive heavy foot traffic or where emergency access may be required. Slip resistant Stair Tread Nosings are also critical to meeting disability standards for safe access to premises for the visually impaired or disabled.

Latham Australia is a third-generation family-owned business founded in the early 1950's. Manufacturing superb quality Stair tread Nosing's in Sydney for almost 70 years, they pioneered the manufacture of tactile indicators in the Australian market in the 1980's. Latham's premium stair and flooring safety products range are the go-to option for architects, builders and flooring installers seeking the most trusted construction products on the market.
To find out more about Latham products, please visit latham-australia.com To talk to a Latham product expert, call 1300 LATHAM (528 426) or email sales@latham-australia.com