It's an exciting time to be designing staircases. From transparent stairs to giant spiral staircases, architects have more choice than ever. Staircases are no longer just a functional feature of a building: they're a central element of the design.
But, there's only one limitation. Australian standards for stairs are complicated - and the path is relatively untrodden when you're leveraging innovative materials or designs.
We've put together a comprehensive guide to using Australian regulations in your favourite staircase designs.
Australian standards for stairs: a quick overview
There are three key Australian standards which outline requirements for the design, construction and installation of stairways:
AS 1428.1: Design For Access and Mobility, General Requirements for Access - New Buildings

AS/NZ 4586: Slip Resistance Classification of New Pedestrian Surface Materials

AS 1657: Fixed Platforms, Walkways, Stairways and Ladders - Design, Construction, Installation
We've included a brief refresher below on the necessary requirements for designing safe, compliant staircases. Refer to the above standards for more specific information.
Flights and landings
The Australian standards for stairs and landings state that you can use a maximum of 18 stairs (risers) in a single flight. Flights can be connected using landings. A barrier, a landing 2+ metres in length or a change in the direction of the stairway of 90+ degrees needs to take place every 36 stairs.
Staircases must slope at an angle of 20° to 45°, but between 30° and 38° is recommended. Minimum headroom is generally 2 metres.
Stair treads
Stair treads need to be slip resistant and extend across the full width of the stairway. The edge of treads should be visible against the background. Slip resistant nosings can be added to meet these standards. Treads must be solid if the stairway is more than 10 metres high or connects more than 3 stories.
Risers, goings and depth
Key dimensions for the risers and goings of stairs are outlined in this table:

Additionally, the tread depth must be greater than or equal to 185mm. See AS1657 for details.
Handrails
Australian standards for stairs and handrails outline that staircases need handrails on all exposed sides unless there's a fixed structure within 10cm of the stairway. Every staircase needs one handrail. Stairways wider than 1 metre need a handrail on both sides.
Loading
Stairs need to have:
a minimum loading of 2.5 kPa.
a 2.2 kN per linear metre.
a minimum point loading of 1.5 kN applied on 10cm2 pad on each step.
These loading requirements differ for stair landings.
How to use Australian stair regulations in 7 innovative staircase designs
1. Floating stairs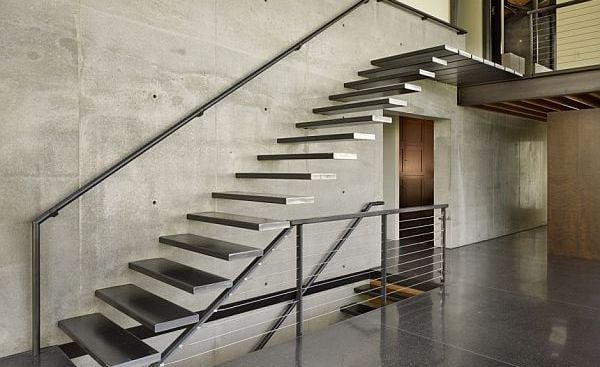 Image credit: Home Edit
Floating stairs have been a major staircase design trend for almost a decade, fitting in perfectly with progressive minimalist architecture. But with an impossibly sleek look that dangerously defies gravity, are floating stairs compliant with Australian regulations?
The answer comes down to four major risk factors; handrails, tread gaps, stair surface and loading capacity. Designing a minimalist staircase in accordance with Australian standards for stairs and handrails requires careful planning, particularly with regards to these features.
2. Transparent stairs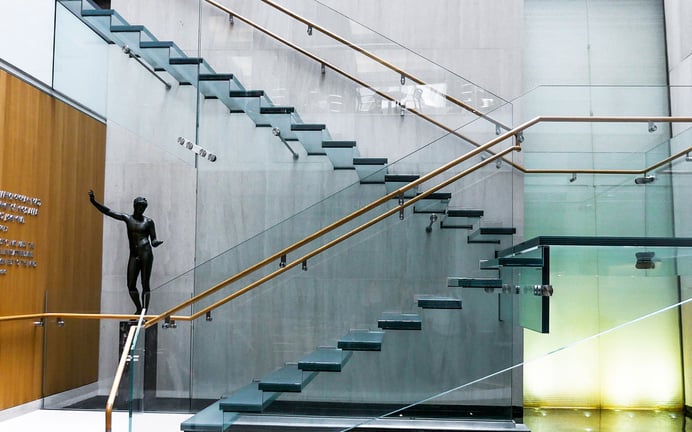 Image credit: Agnora
Another minimal stair design trend is transparent stairs and railings. These are made of sleek materials such as glass. Make sure you stay compliant by adding non-slip stair treads or nosings. Also, ensure stairs and handrails are visible at night and to those with limited vision. Add automatic lighting sensors and luminescent stair treads or illuminated handrails where necessary.
3. Sustainable design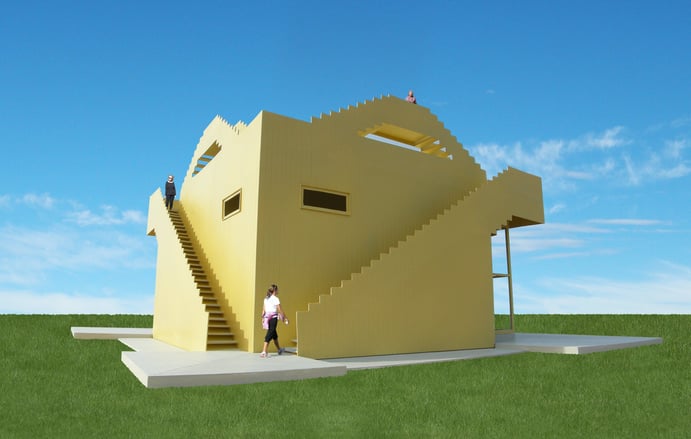 Image credit: Archinect
From bamboo treads to biophilic risers, sustainable stairs are on the rise in commercial architecture. One particularly interesting concept is Michael Jantzen's Stair-Scape House (pictured above), which uses energy from walking on stairs to generate electricity. We're hoping the real life version would have some handrails!
For sustainable new materials like bamboo, be conscious of their loading capacity and the texture of the surface. You might need to add extra support or some slip-resistant treads.
4. Striking lighting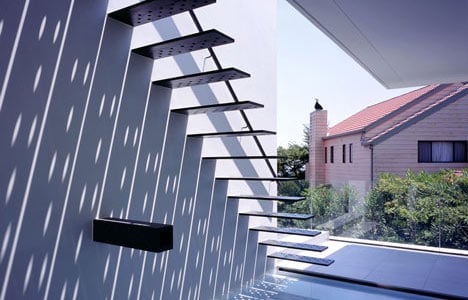 Image credit: dezeen
Contemporary buildings often feature interesting staircase lighting, by illuminating various parts of stairs or playing on staircase shape to cast intricate patterns of light on the walls. These help ensure that staircases have adequate visibility.
Latham craft a few types of high quality luminescent stair treads - you can find them here.

5. Tiny houses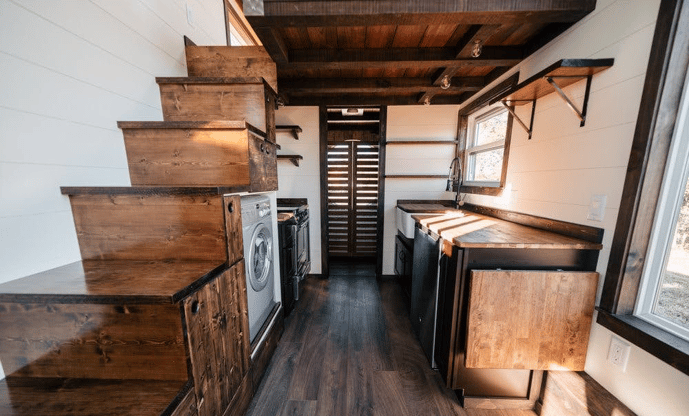 Image credit: New Atlas
Tiny houses are exploding in architecture right now, as they enter the commercial sector. They can even be 3D printed, with wireless smart technology being placed directly into the walls.
However, architects need to carefully plan two storey tiny houses in Australia. Staircase standards make complying difficult, as stairways can easily be too steep, shallow or close to the roof. We may even need to reevaluate Australian standards for stairs in light of the tiny house revolution!
6. Feature staircases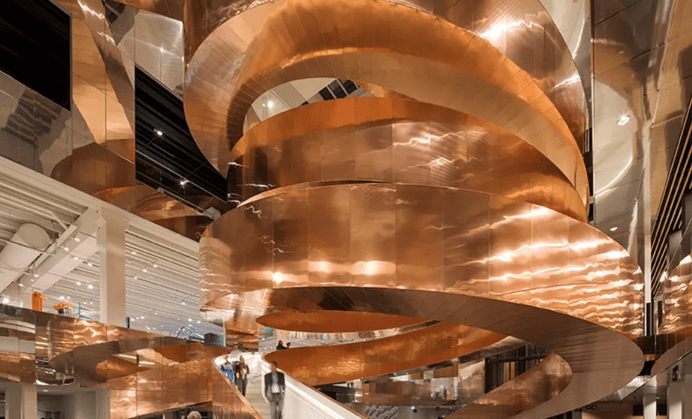 Image: Helix, Denmark
Bold, striking and just plain huge feature staircases take the opposite approach to tiny houses - and they're getting bigger and bigger. Large spiral staircases are a hit with many commercial spaces.
My favourite is the Experimentarium Science Centre's dramatic Helix staircase in Copenhagen (pictured). Built from steel clad with 10 tonnes of copper, its organic form is based on the structure of DNA. It's a symbolic, "extroverted" staircase which facilitates strong internal flow.
The great thing about large scale feature staircases is they are usually very robust, accessible and safe. Ensure they are built with the correct landings, handrails and dimensions in mind.
7. Bright colours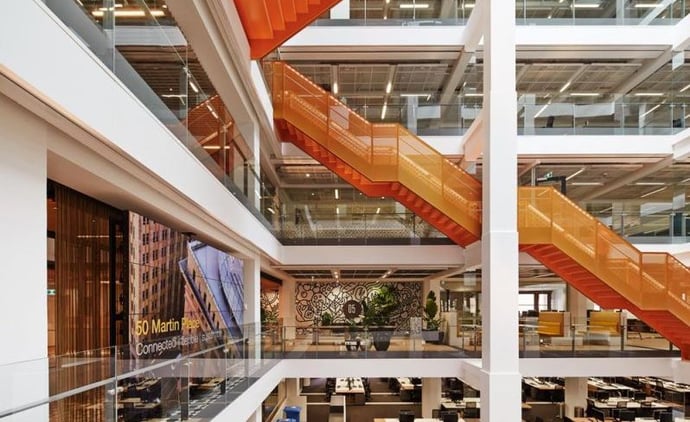 Image credit: Sapphire Aluminium
Vibrant, monochromatic staircases are huge at the moment. Often made from glass or metal, these are a great way to bring a staircase to life - particularly for projects with low light or a restricted budget. They are also easy to match with essential safety products like stair treads.

For more information on maintaining safety whilst developing your next staircase design, download our Safety Stair & Flooring catalogue.