The Building Code of Australia (BCA) has adopted Australian Standard AS1428.1.2009 for Design for Access and Mobility and, accordingly, compliance is mandatory. The standard applies to new buildings and existing buildings that are being upgraded, altered, or refurbished.
Australian design standards make no distinction between different types and uses of stairs, and even fire stairs that are only used for emergency egress need to comply with the stair provisions of AS1428.1
Like all stairs, when considering a fire exit, there are two critical factors to consider:
Identifying the leading edge of the stair tread so that vision impaired people can safely distinguish one stair tread from another. This is achieved through luminance contrast – the difference in the amount of light reflected from one surface as compared to the amount of light reflected from another surface

.
Slip resistance - a slip resistant surface is one where the

available friction is sufficient to enable a person to walk without an unreasonable risk of slipping
How can you comply?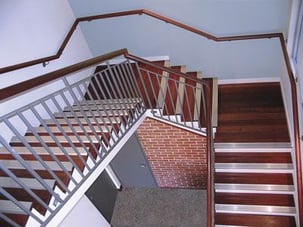 If a building is subject to an emergency event, the Standard is intended to ensure that older occupants, people with mobility limitations or vision impairment can safely exit the building with minimum risk of slips, trips and falls. As it is only intended for use in an emergency, the aesthetics of a fire escape may be considered less important and building owners may opt to treat stair surfaces with slip resistant paint and to paint a contrast strip. This is potentially problematic as the slip rating may not comply and the paint on the stair edges may quickly deteriorate, particularly if building occupants use the fire escape, instead of elevators, to move between floors.
The most sensible way to minimise risk and ensure compliance in emergency stairs is to install Stair Tread Nosings.
Stair Tread Nosing selection is critical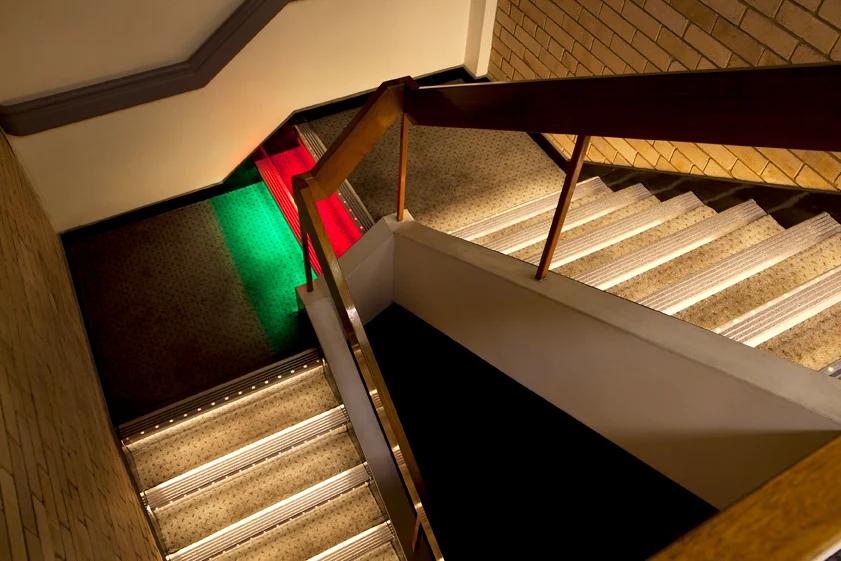 It is critical to select a compliant and conforming stair tread nosing. The type and structure of the non-slip insert, the luminance contrast, and the overhang on the leading edge are all factors that need to be considered, and expert advice is recommended.
Latham Australia have been manufacturing premium Stair Tread Nosings in Sydney for 70 years.
The metal profile is designed to support the abrasive insert and interior flutes form a permanent bond with the insert. With no possibility of the abrasive insert lifting out of the channel, Latham Stair Tread Nosings can be relied on for many years of safe usage. Abrasive inserts are available in the industry's widest range of colours ensuring luminance contrast between stair and nosing to satisfy all certification requirements.
As a result of end-to-end control and oversight of procurement, manufacturing and quality control, Latham manufacture the industry's most reliable and high-performing products and Latham product specialists will ensure you select compliant and conforming products for your application.



To find out more about Latham products, please visit www.latham-australia.com. To talk to a Latham product expert, call 1300 LATHAM (528 426) or email sales@latham-australia.com.