Asbra Suregrip Slip Resistant Paving Grains of pure silicon carbide and mineral granules are specially treated, crushed, washed and graded to ensure uniformity.
Asbra Suregrip is produced in an electric furnace at temperatures exceeding 2200° C. The hardness of the granules is second only to that of diamond; similar materials are used for precision grinding wheels.
Slip resistant for pedestrian walking safety.
Durable – tough grains are barely affected by years of steady traffic.
Floor hardening properties – Suregrip is harder than any of the cement and aggregate components of conventional concrete. It is chemically inert. It is not affected by water, common acids and alkalis.
Attractive appearance – the iridescent sparkle of Suregrip's silver-black particles subtly indicates the pavement is slip resistant. The basic colour of plain and pigmented concrete is not altered.
Surface sealing in industrial applications – a compatible sealer (Crystal Seal) can be applied over Suregrip granules to eliminate dusting of concrete surfaces. The sealer must be used sparingly so as not to reduce the effectiveness of the Suregrip granules.
---
Typical Uses
Paving, Stairs, Landings, Ramps, Loading Docks, Service Stations, Patios, Factories Floors, Public Buildings, Swimming Pools, Schools, Shopping Centres, Parking Stations, Hospitals, Epoxy and Polyester Finishes.
---
Suggested Applications
The density and size or roughness of granules needed to achieve appropriate slip resistance depend on many variables. For instance, the gait of pedestrians in open public areas is often faster and less cautious than in areas readily discerned as private and enclosed. The frictional resistance of smooth porous surfaces varies significantly from wet to dry. All grades of Suregrip granule impart slip resistance, but the grade should relate to all anticipated service conditions generally as follows:
Approximate sizes in micrometres
Asbra No. 1 Suregrip: 2000 micron Steep inclines, ramps, hazardous areas, etc
Asbra No. 2 Suregrip: 1100 micron Industrial paving, pedestrian walkways
Asbra No. 3 Suregrip: 600 micron Stairs, landings, loading docks, platforms, schools, hospitals
Asbra No. 4 Suregrip: 300 micron Industrial paving, stairs and landings. Also used for filling abrasive slip resistant grooves in stair treads usually 15mm (2 bars).
Asbra No. 5 Suregrip 225 micron Swimming pools, resin floors, hygienic floors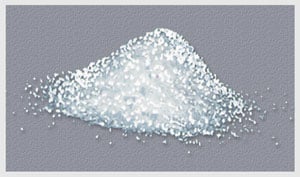 Finer grades are available for special applications. All micron sizes are approximate and subject to sieve tolerances.

Asbra No. 2 Pearl: Also available in No. 3, 4 and 5. Use for ornamental paving, swimming pools, resin floors, hygienic floors and industrial paving.

---
Packaging:
25Kg & 10Kg bags (ONLY)
---
Specifications
Concrete finish shall be made slip-resistant with Asbra Suregrip No .................. granules (specify number), as supplied by Latham Australia Pty Limited, 14 Tennyson Road, Gladesville NSW 2111, Telephone: (02) 9879 7888.



Unless otherwise specified, apply Suregrip at a rate of one kilogram per square metre of finished surface.

While the finished concrete surface remains wet, Suregrip shall be broadcast evenly over the surface, gently tapped and trowelled.
For extra heavy duty areas as identified (in the drawings, schedule of finishes, etc.), apply a finishing layer comprising 1 part Suregrip granules to 2 parts Portland Cement, to a depth of not less than 12mm and not more than 18mm.

Normal cement latience and fine particles of cement floated to the surface during finishing may produce a thin weak crust over the hard Suregrip granules. If the slip-resistant surface is not uniformly exposed after the concrete cures, lightly wet-grind the surface with Abrasive Rubs fitted to a Latham Terrazzo floor grinding machine, available for hire or sale from Latham Australia Pty. Ltd.

---
View and download our data sheets - PDF