For many years architects and certifiers have been asking flooring manufacturers to supply data on the Luminance Reflective Value of their supplied finishes with little success. So they have had to take it upon themselves to obtain the necessary information.

Many professionals have tristimulus colorimeters or spectrophotometers as described in the standard, although for reliable accurate units these can be very expensive. In some cases professionals are employing the services of professional testing facilities to carry out the testing for them. At the Association of Consultants In Access Australia National Conference in November 2013, we heard how a number of people have formed their own testing criteria. Some of the criteria's we heard about are listed below.


The SQUINT Test
Some individuals look at the two items they are trying to check the luminance contrast on. They squint their eyes and if they can still make out a difference between the two items, they consider the items achieve the luminance contrast. This may work but it also may not!
The Sepia and Mono Test
Some people have been taking photos of the two surfaces in sepia or mono and have been judging if the colours are complaint. They consider the colours compliant if they can ascertain a difference in the two colours in these photographic modes. Here are some examples.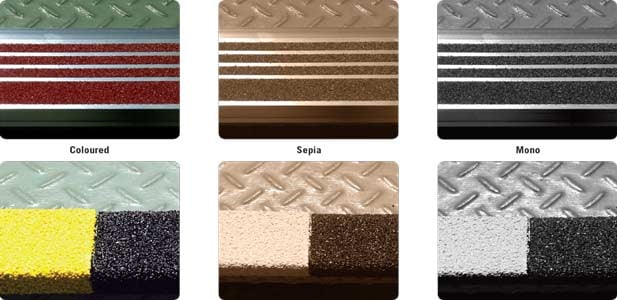 Neither of the above test methods can be considered accurate. Latham have in our Sydney plant a Spectrophotometer Instrument capable of taking the readings necessary as detailed in AS 1428.1-2009 Appendix B and AS/NZS 1428.4.1:2009 Appendix E. The instrument is properly maintained and calibrated by a NATA Accredited Authority.
Should builders and achitects request, Latham can provide indicative luminance testing results for samples of your chosen flooring. We will provide the test results and the luminance contrast between the supplied sample and our stair tread nosings or Tac Tiles.
Click here to let Lathams test your floor finish & advise which nosings will meet requirements.